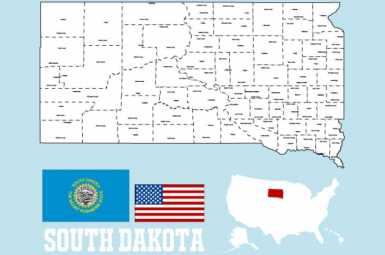 South Dakota supports the 'Shall-Issue' gun licensing. As an introduction, it is essential to note that permits are only valid for five years. Moreover, the concerned person shouldn't have any criminal history. In the subsequent sections, we shall take a look at the list of gun laws and regulations in South Dakota.
Gun-carrying in South Dakota is suitable for individuals that are older than 18 years. Most importantly, no violence history should exist in the permit report. It is essential to understand that South Dakota only issue carry permits to residents. Most importantly, three kinds of licenses are available, namely Gold, Regular, and Enhanced. The best thing about the different permit variants is the flexibility that comes along. While the regular and gold permits have the usual facilities concerning gun-carrying, enhanced licenses make sure that individuals get additional reciprocity benefits. However, gun training is mandatory in this case. Another important aspect of South Dakota gun-carrying law is that open carry is still allowed even if there isn't any permit in hand. Moreover, it is the local sheriff who issues a temporary license within five days if all the aspects are according to the guidelines.
South Dakota CCW Process
Handgun Requirements in South Dakota
The applicant must be 18 years of age during the time of applying.
Must be a resident of the state for a minimum period of 30 days.
Must be a citizen or legal resident of the US.
Must not be convicted of any type of charges in the recent 5 years
Must not be habituated to any form of drugs
Must be mentally competent at the time of applying.
Has no history of violence
Must not have violated any Federal Law requirements.
CCW Handgun Application Process
The applicant must submit a completed form called an Application and Temporary Permit to Carry a Concealed Pistol. The information required for the completion of application consists of:
Name of the applicant
Residence address
Occupation
Place and date of birth
Physical Description
Applicant's signature
Upon completion of the application with valid information the applicant may have to produce additional requirements as listed below:
The application for the optional enhanced permit to carry a concealed pistol id required.
A copy of international criminal history background check
An authorization to carry out a fingerprint background verification;
Payment towards fingerprint verification
Payment towards application processing
Proof of completion of the qualifying handgun course
It takes fve days for the sheriff to provide a temporary permit while it takes 7 days for the secretary of state to issue the official permit.
Once the permit to carry permit is likely to get expired, the permit holder gets a sixty-day grace period to renew the permit.
Renewal of the regular permit to carry is done through the sheriff of the county. The permit holder must reside in the county for over a period of 90 days prior to the date of expiration. Payment towards background verification which includes a computer check of the online records of the holder and the National Instant Criminal Background Check is carried out prior to the renewal of the permit.
Grace period: 60 days to renew the permit.
License Fee for New Application
Regular Permit which is valid for five years fee: USD 10.00
Enhanced Permit which is valid for five years fee: USD 100.00
Gold Card Permit which is valid for a five-year fee: USD 70.00
License Fee for Renewal Application
Regular Permit renewal: USD 10.00
Enhanced Permit renewal: USD 50.00
Gold Card Permit renewal: USD 70.00
South Dakota CCW Basics
Must Notify Officer
NO – Must Inform Officer when contacted by Law
As per South Dakota Gun law, there are no specific indications that say an individual to inform the officials when approached for an enquiry regarding the possession of a firearm. But it is a mandate to carry the firearm permit along with you all times if you are carrying the firearm with you if you are above the age of 18 years. It is a right to possess a firearm with an appropriate permit.
No Weapon Signs Enforced
NO
When a "No Firearm" sign is displayed, it does not have the force of law, but when it is over any property which purposefully indicates that it is a state law and it is an offence to carry firearms. But as per South Dakota Gun law, it is always suggested not to enter areas with the "No Weapon" sign with a firearm.
Vehicle Carry
YES – Without a Permit/License
South Dakota gun laws permit any individual with a valid permit to carry the firearm that is not loaded in the vehicle. If it is a long gun, it is a must to unload the gun and keep them visible in the vehicle, while in case of short guns; they must be unloaded and enclosed inside a case. Also, ensure to carry the permit if you are carrying a weapon.
Open Carry
Yes- Without a Permit/License
As per South Dakota gun laws, any individual possessing a "South Dakota Firearm License" can legally carry weapons and firearms openly in hand, vehicle or to the place of work for individual defence purposes.
South Dakota Gun Forms & Supporting Documentation
Purchase and Possession
PURCHASE

The state of South Dakota does not require any permit or license to purchase handguns, shotguns and rifles. All legal citizens of South Dakota may purchase, sell, transport and trade firearms within the state of South Dakota unless they are explicitly excluded by state or federal law.

Citizens wishing to purchase a handgun without a permit to carry a concealed handgun must submit an application to a federally licensed dealer of firearms. This licensed dealer must then deliver, either in person or by mail, the buyer's application to the local police chief or county sheriff within a period of no more than six hours. A copy of the application shall be returned to the dealer and the receiving entity shall maintain this copy for a period of no less than one year.

Approved applicants shall receive their handguns in an unloaded and securely fastened state.

POSSESSION

The state of South Dakota does not mandate any permit or license for the possession of any handgun, shotgun or rifle.

Minors (persons below the age of 18) may not possess handguns unless they are supervised by a parent or guardian, supervised by a certified firearms instructor, using the handguns for the purpose of target shooting, practice in a firearms course, ranching, trapping or farming, or on the private property or residence of an immediate family member, parent or guardian.

Convicts of violent offenses or felonies are prohibited from possessing a firearm unless the cessation of the prison term, probation or parole period occurred more than 15 years prior to attempting to possess a firearm.

Persons convicted of any misdemeanor pertaining to domestic violence may not possess a firearm within a period of no less than one year following the date of conviction. Following the expiration of this period, convicted offenders may petition the original court of conviction to restore the right to carry a firearm.
Carrying a Firearm
It is illegal in South Dakota to carry a concealed handgun on one's person or in a personal vehicle without first acquiring a permit from the county sheriff of one's county of residence. All citizens who meet the following pre-requisites are eligible for a permit to carry a concealed firearm. Qualified applicants are:
Lacking any history criminal or domestic violence;
Free of any addiction to alcohol or any controlled substance;
18 years of age or older;
Free of any felony convictions or violent crimes;
Free of any misdemeanor or felony convictions pertaining to South Dakota firearms laws or controlled substance usage;
Free of any judicial or psychiatric judgment defining an applicant as a "danger to others or a danger to self" in the previous 10 years;
Not currently or previously (within 10 years) adjudged to be mentally incompetent or insane;
Citizens of the United States;
Constant residents of the county of application for the previous 30 days;
Not currently evading law enforcement and with no outstanding warrants for their arrest.
It is the responsibility of the county sheriff to conduct a thorough background and criminal history check of every applicant before issuing a permit. This check shall be based entirely on a check of any and all available internet database records. Applicants must also incur a $10.00 permit fee.

All citizens may appeal any permit denial through the circuit court closest to the place of residence of the denied applicant. Any citizen wishing to acquire a temporary permit shall receive a copy of their original permit application within 5 days. This copy qualifies as a temporary permit until an official permit is issued by the State of South Dakota. All permits are valid in the state of South Dakota for a period of no more and no less than 4 years.

Regardless of holding a permit to carry a concealed handgun, no person may carry a concealed handgun on the premises of or within any:
Courthouse or facility of judicial processes;
Wildlife or game preserve unless the carrier is in a personal residence within a preserve for the purpose of controlling or eliminating birds or predatory and non-game animals or the person is driving on a highway within a preserve given that the firearm is properly sealed in a case within the vehicle;
Purveyor of alcoholic beverages in which the sale of alcohol accounts for a majority of its profits;
Snowmobile or vehicle designed exclusively for travel through snow, unless the firearm is properly sealed in a case and is unloaded; or
Elementary, middle or high school, public or private, or any school sponsored or related vehicle or event.
Citizens may carry handguns without a permit in their homes or private businesses given that the citizen is the owner, renter or lease-holder of the property and in their cars so long as the gun is in a sealed compartment of the vehicle and is unloaded.

Antiques & Replicas
Firearms categorized as antique due to being manufactured before 1899 (or their replicas) which cannot utilize center-fire ammunition or rim-fire ammunition are exempt from most regulations pertaining to standard firearms. This includes percussion cap, matchlock, or flintlock antique firearms.

Any firearm classified as "antique" or any firearm that has been mechanically modified to remove its ability to discharge is not subject to the firearms laws of South Dakota.
Range Protection
Established firing ranges and their owners and patrons are immune from litigation relative to the noise of its operation given that the range is in compliance with the ordinances and regulations of the localities.

S.D. CODIFIED LAWS §21-10-28 (2011)

§21-10-28. Normal operation and use of sport shooting range not a nuisance.

The use or operation of a sport shooting range may not be enjoined as a nuisance if the range is in compliance with those statutes, regulations, and ordinances that applied to the range and its operation at the time when the initial operation of the range commenced. The use or operation of a sport shooting range may not be enjoined as a nuisance due to any subsequent change in any statute, regulation, or ordinance pertaining to the normal operation and use of sport shooting ranges.
South Dakota Concealed Carry Reciprocity South Dakota's Reciprocity States
States that honor a South Dakota permit
Alabama, Alaska, Arizona, Arkansas, Colorado, Delaware, Florida, Georgia, Idaho, Indiana, Iowa, Kansas, Kentucky, Louisiana, Maine, Michigan, Minnesota, Mississippi, Missouri, Montana, Nevada, North Carolina, North Dakota, Ohio, Oklahoma, Pennsylvania, Tennessee, Texas, Utah, Vermont, Virginia, West Virginia, Wisconsin, Wyoming
South Dakota honors permits from these states
Alabama, Alaska, Arizona, Arkansas, California, Colorado, Connecticut, Delaware, District of Columbia, Florida, Georgia, Hawaii, Idaho, Illinois, Indiana, Iowa, Kansas, Kentucky, Louisiana, Maine, Maryland, Massachusetts, Michigan, Minnesota, Mississippi, Missouri, Montana, Nebraska, Nevada, New Hampshire, New Jersey, New Mexico, New York, North Carolina, North Dakota, Ohio, Oklahoma, Oregon, Pennsylvania, Puerto Rico, Rhode Island, South Carolina, Tennessee, Texas, Utah, Virginia, Washington, West Virginia, Wisconsin, Wyoming
Districts & Territories
District of Columbia, New York City, Guam, Puerto Rico, Virgin Islands
Miscellaneous
In the state of South Dakota it is illegal:
To carry any firearm or air gun on the grounds of any school, school-sponsored event or school-related vehicle. Law enforcement officers and persons facilitating or involved in school-sponsored gun shows, activities or training courses are exempt from this regulation.
For any municipality or locality to regulate, authorize and prohibit the transfer, sale, delivery, taxation, storage, manufacture, purchase, ownership, transportation, use and possession of all weapons, firearms and/or ammunition, and regulation of any of the above.
For any state agency or an employee of such to keep an active list of private firearm owners or permit holders.
To discharge a firearm in a dangerous or reckless manner.
To set a spring trap or spring gun designed to activate without the direct presence of a person.
To alter, adjust or remove a serial number of any firearm without first acquiring the approval of the Director of Criminal Investigation.
Lawful manufacturers, dealers or traders of firearms shall not be subject to criminal or civil litigation pertinent to the use of a firearm lawfully sold to any citizen.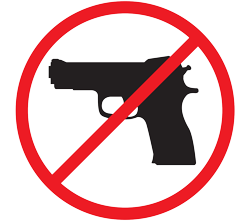 South Dakota Off Limit Statues
22-14-23. - Possession in county courthouse or state capitol--Misdemeanor
Except as provided in § 22-14-24, any person who knowingly possesses or causes to be present any firearm or other dangerous weapon, in any county courthouse or in the state capitol, or attempts to do so, is guilty of a Class 1 misdemeanor.
SL 2019, ch 106, § 2
22-14-24. - Exceptions to penalty for possession in a county courthouse or state capitol. The provisions of § 22-14-23 do not apply to
(5) The possession of a concealed pistol anywhere in the state capitol, other than in the Supreme Court chamber or other access-controlled private office under the supervision of security personnel, by any person not otherwise referenced in this section, provided:
(a) The person possessing the concealed pistol holds an enhanced permit issued in accordance with § 23-7-53;
(b) At least twenty-four hours prior to initially entering the state capitol with a concealed pistol, the person notifies the superintendent of the Division of Highway Patrol, orally or in writing, that the person intends to possess a concealed pistol in the state capitol;
(c) The notification required by this subdivision includes the date on which or the range of dates during which the person intends to possess a concealed pistol in the state capitol, provided the range of dates may not exceed thirty consecutive days; and
(d) The notification required by the subdivision may be renewed, as necessary and without limit.
SL 2019, ch 106, § 3

§ 13-32-7. - Possession of Firearm or Dangerous Weapon On Public Elementary or Secondary School Premises or in Vehicle or Building as Misdemeanor--Exceptions
Any person, other than a law enforcement officer or school sentinel under § 13-64-1, who intentionally carries, possesses, stores, keeps, leaves, places, or puts into the possession of another person, any dangerous weapon, firearm, or air gun, whether or not the firearm or air gun is designed, adapted, used, or intended to be used primarily for imitative or noisemaking purposes, on or in any public elementary or secondary school premises, vehicle, or building, or on or in any premises, vehicle, or building used or lease for public elementary or secondary school functions, whether or not any person is endangered by any action under this section, is guilty of a Class 1 misdemeanor. The provisions of this section do not apply to;
(1) Use of a starting gun at an athletic event:
(2) Any firearm or air gun at a:
(a) Firing range;
(b) Gun show;
(c) Supervised school or session for training in the use of firearms; or
(d) Ceremonial presence of unloaded weapons at color guard ceremonies;
(3) Any nonpublic school;
(4) Any church or other house of worship; or
(5) Any nonpublic school located on the premises of a church or other house of worship.
SL 2018, ch 98, § 1.