5 Best Shooting Glasses
Shooting glasses, while not necessarily restricted to the function of its name, are required accessories in shooting sessions just for the simple and undeniable fact that it provides first-line protection. However, more than just keeping that stray casing away from your delicate eyes, they are, of course, also beneficial in potentially enhancing your performance.

So, is it enough that you buy a premium pair of shooting glasses to fulfill this safety and enhancement necessity? That is indeed the prime option. But for those who might not have the budget, here are a few far more affordable shooting glasses that we can recommend.

Titus Professional Multi-Lens Safety Glasses
The Titus Professional Multi-Lens Safety Glasses is perfect for general eye protection and safety purposes. It is, however, more optimized for riding and shooting, sporting five different lens colors to match the lighting and environment conditions that you might need it for. Each lens is easily swappable with the other, and the frame itself is built to fit snugly, with the lens not giving room to alter or even hamper your peripheral vision.
Pros
Good build quality
Versatile. Can be used in most eye protection situations
Convenient storage for the entire lens set
Very affordable
Cons
Only good enough (not actually premium)
Nose pad can feel loose for some users
Lens swapping is snappy, yet inefficient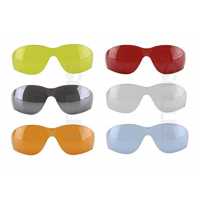 Our Take
Simple, and elegant. These are the two words that describe the Titus Professional Safety Glasses Set. The build quality of the lenses is superb. Not that it is an absolute premium product or anything, but you can really feel its durability and stability when worn.

As with most safety glasses of this type, it neatly wraps around your eyes and onto the side of your face so as to provide adequate peripheral protection, and to keep the level of lighting that you see consistent wherever your eyes go. Of course, it is also built to protect the eyes from bouncy casing, and can be worn for significant periods of time without strain or irritability to the skin.

There are a variety of different lens types that can be used. Clear ones are of course the base safety glasses default. But for enhanced performance, you would, of course, want to use other colors. Need to shoot some game on a somewhat bright, but otherwise overcast sky? The amber lenses give you additional visual leverage to better see motion in between tall grasses. Dealing with multiple color targets in a range? Find the right complementary color to make those bullseyes even more visually prominent. 

Now we come to the slight negative, though this is more like a personal negative for this review really. The Titus Professional Safety Glasses Set does not really shake up or change anything with its interchangeability game. Sure swapping out the lens doesn't really take up much time, and is most likely negligible if you plan to use just one for the rest of the session. But when testing out different setups, that slight delay in time just gets more and more inconvenient with each passing run.

Again, this is not really something significant, thought we might just mention it as a slight disclaimer.

All in all, the Titus Professional Safety Glasses Set is a good and reliable choice for an affordable shooting lens set. It may not be too premium, but it is very well worth the price you will pay it for.

Walkers Lens Shooting Glasses
The Walker's Lens Shooting Glasses is a safety glasses that are made from high-grade polycarbonate, and is designed for maximum UV radiation protection. Both the frame and lens are designed to prevent lens fogging, long-term use for an entire day's session, and withstand significant physical impact, allowing it to endure wear for an even longer period of use.
Pros
Super cheap
Ready-to-use
Snug fit for most people
Cons
Might fog up more easily than other glasses
Earmuff adjustment-sensitive
Our Take
The principle of sticking to higher-priced glasses for maximum comfort is a tried and tested theory. Indeed, that is the case with more premium ones like Revision's Hellyfly or even the Oakley Radar.

However, cheaper models such as this Walker's Shooting Glasses also demonstrate to us that (adequate) quality can be obtained at much lower price points.

First, is the wearing comfort. These pair of shooting glasses give the trademark sturdiness of polycarbonate material, which also translates to how snug it can fit most user's eyes and temples.

Second, is the design. While it is the standard fair side-to-side glass fanfare, the frame itself is quite thin enough to be paired with ear muffs during shooting practice. It is definitely something that you can rely upon during longer, more extended sessions.

Last, but not the least, is the chosen amber color, which typically brightens what would usually be dark, indoor gun ranges. Not exactly something out of the ordinary, but it is worth mentioning as part of the overall "service package" that the pair of glasses can provide to any user.

One rather ironic downside of the glasses is when you gradually tighten your earmuffs, the frame might actually start to feel like its protruding. Given certain uncomfortable physical settings, and it might start to hurt as you use the pair with the corresponding ear muffs after a short while.

Another thing that might concern some users is the way it fogs up a bit easier than other glasses. This could certainly be a problem during colder days, or within air-conditioned gun ranges. Not as debilitating as some people might say, but do be careful.

To summarize, Walker's Lens Shooting Glasses is an overall, cheap and affordable pair of shooting glasses that you can casually use for any type of shooting setting. It might not be a dedicated product, but it is easily accessible to those want a quick starting pair to use.

$4.95


Bertoni Shooting Glasses, AF899 Italy Tactical Protective Safety Glasses with Optical Prescription Carrier (Shiny Black)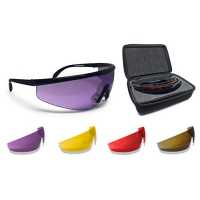 The Bertoni Shooting Glasses is introduced as a maximum protection safety glasses, not just for the user, but for the product itself. It is built with anticrash, shatterproof polycarbonate, making highly impact resistant. Combined with its very simple frame design, and you can expect to comfortably use it without constricting airflow through the rest of your head. The swappable lenses themselves are given the antifog treatment, with the usual wraparound to protect your eyes from the elements.
Pros
Middle-tier satisfaction
Target enhancement focused multi-lens option
Reasonable price
Cons
Probably too mid-tier
Swapping lens might be a bit hard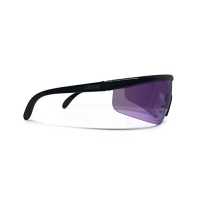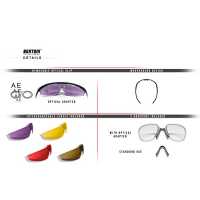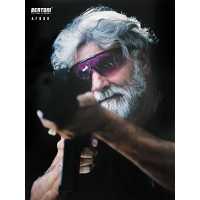 Our Take
When it comes to the middle ground, a balance between performance, specifications, and price is almost always expected. For Bertoni Shooting Glasses, this is more or less achieved, though perhaps it is not without its own unique imperfections.

But before we get to that, we need to enumerate its basic features first. The lightweight, shatterproof polycarbonate material is as always, very sturdy. It has that typical level of durability that provides ample flexibility to the whole unit, making it snugly fit your head.

Most of the color variants for the lenses are similar in function when it comes to enhancing the overall brightness of the shooting range. But it usually boils down to either using the yellow one for gray, overcast weather, and brown to keep out that bright blue sky on clear shooting days. Do remember to adjust each lens to the color of your shooting targets as necessary.

One the note of using multiple lenses, one thing that I perhaps didn't like as much is the unnaturally somewhat high amount of force necessary to pull out these things. I mean, you don't need to be Hercules to take them off, but it does concern me that I might accidentally break the lenses if I try to adjust it in our out with too much force.

If in case you did damage the product within the warranty period, don't worry. Their customer service is good enough to be able to deliver replacement parts within just a few days.

Were the Bertoni Shooting Glasses impressive? Not really. But it serves its purpose well, especially for the middle-tier price that it provides. It's an investment well worth the extra few dollars beyond entry-level, while still being so much cheaper than high-end ones.

$68.00


Wiley X Saber Advanced Shooting Glasses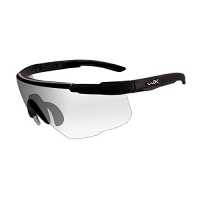 The Wiley X Saber Shooting Glasses is advertised to be capable of completely blocking UV rays from the user's eyes. Combined with a triloid nylon-based frame and shatterproof glasses, the pair provides the entire baseline protection level needed to keep shooting sessions safe.
Pros
Clear view with no distortions
Snug fit with more adjustability options
Superb quality relative to its cheap price
Cons
Clear view... that's about it
Potentially gets damaged more than normal
Our Take
Wiley-X Saber has been quite known as the premier brand for non-premier shooting glasses. Well, at least one of the known ones. But hey, quality is still quality, and you will find the right combination of it, packed with a very affordable price tag, for this convenient pair.

Protection is so far great for this particular model of Saber shooting glasses. The clear version is as standard as it gets. It offers no visual enhancement or tweaks, but is instead focused directly on making sure its user won't hit stray or a casing in the eye.

While the Saber shooting glasses definitely is shatterproof, one significant impact would usually leave large cracks on the lens. Kind leaving your glasses now hard to use with that large crack affecting your shooting accuracy. If your product is still within the warranty, don't hesitate to call customer service for another pair.

As usual, this Wiley-X Saber is another technical pick for this list because of its perfectly snug fit for most adults. The adjustable nose piece isn't the best breakthrough in eyewear technology, but it certainly helps make it easier to adjust.

There is one caveat to this snug fit, however. The center part of the frame feels just a tad bit too big. In many shooting sessions, this would usually result in a clear black line that is always present within your line of sight just around the nose. So while adjustability gets high points, it is ultimately sacrificed a bit for technical visibility. At best, it gets annoying to look at. At worst, it might bother just enough to affect your shooting performance.

Long story short, the Wiley-X Saber is an excellent entry-level substitute for high-end glasses when it comes to basic protection. It isn't perfect, but it still offers a competitive level of quality that is almost comparable to higher-end expensive ones.
$36.00


iLumen8 Shooting Glasses with UV Blacklight Flashlight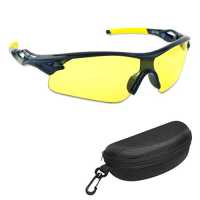 The iLumen8 Shooting Glasses is an attractive and stylish set of glasses that built for active outdoor activities where UV radiation might be a concern on your visual performance. As such, the pair also functions very well as shooting glasses, and is indeed advertised by its distributor as such.
Pros
Good field enhancement
A surprisingly good stain detector
Very lightweight
Super cheap
Cons
A bit flimsier than the rest in this list
Seems polarized, but it really isn't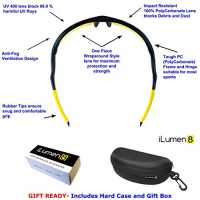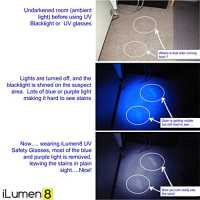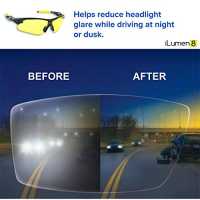 Our Take
Ever thought of just disregarding something just because it is way too cheap? The iLumen8 shooting glasses definitely were one of them. Usually, you would expect some level of expense in regards to choosing such safety-based products. But apparently, (good enough) quality can still come in smaller packages.

First things first, let's mention this particular model's lens color. It is only available in yellow, which automatically means it is optimally used in low light conditions. For the most part, it does its job. However, when paired with the rather awkwardly set sporty design, it usually means that you really can't wear these casually outside its intended destination. Oh, and they're not actually polarized so don't even get your hopes up in terms of light protection.

That being said, using it outside shooting is still quite functional. It is also advertised as a visible-light-transformed UV light enhancer. If you're using UV lighting to detect things like stains, the iLumen8 will make them stick out like a sore thumb.

Protections-wise it seems quite okay. We're unable to simply directly smash one just for testing, but overall, it is quite alright despite feeling quite flimsy. It probably won't perfectly resist much heavier impacts, but if it is decelerated strays, you'll most likely simply end up with a cracked yellow-tinted vision.

Comfort-wise they do kind of fit. I personally don't think it holds your head that well compared to others we reviewed on this list, but you can use them for probably a day's session before you feel like the frame is pressing into your temple.

Overall, the iLumen8 delivers on its basic feature of target and lighting enhancement, with the bonus of functioning as a stain detector. Not exactly the most premium of quality, but hey, at this price, you should really have been expecting as much.

$17.96