4 Best Spotting Scope for Target Shooting
Alright, spotting scopes. That thing that is mainly used for looking at your results without wasting the time and effort to walk all the way at the target area. As mundane as it sounds, a good investment for such hardware is also needed in shooting, whether you are doing it for simple recreation, for practice, and probably even for hunting (though the third one is beyond the scope of this article).
We've gathered some of the good deals for spotting scopes that you can use for shooting. Do take note, some of these products could be in short supply, so you might want to grab a piece that you liked as soon as you can.
4 Best Spotting Scope for Target Shooting

Gosky 2019 Updated Newest Spotting Scope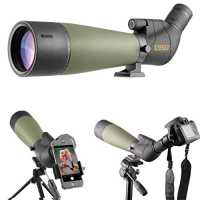 The lastest Gosky 2019 Spotting Scope is a spotting scope with a variable 20~60x standard magnification feature reinforced with a dynamic lens focusing system for higher detail, focus, and frame stability. Its 80mm green film objective lens has an advertised field view of 1,000 yards (914.4 meters), supported by BAK4 Porro prism optics.

Its Magnalium framework and supporting rubber components makes it not only durable, but also tamper and dustproof. It is also well advertised to withstand a good number of harsher weather conditions.
Pros
Great affordability
Durable, solid build
Excellent light absorption
Cons
Price at the far end of entry-level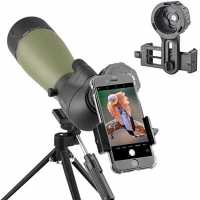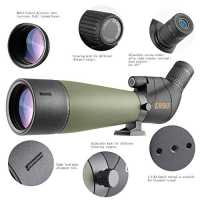 Our Take
First off, the build quality is nothing short of awesome. Okay, I may be exaggerating. But this level of quality from an otherwise entry-level spotting scope is quite great. It makes you really convinced about the company's advertised "usable to withstand the toughest weather conditions" claim.

As for its main purpose, its 80mm lens means that more than adequate light transmission is possible. You can probably even use it in a room with just a few low-watt LED bulbs and the targets will still appear as clear as day.

Its 60x maximum magnification is okay. I don't know if this is good enough for its other design purposes. But for shooting specifically, I feel that this is more than adequate. Especially considering how clear the image looks from your viewing scope.

Digiscoping is intuitive and is easy to setup. Though this is not exactly a positive point, as it is merely a baseline requirement for most spotting scopes in use today. Still, I'd like to confirm to give a better context on its overall features. The same goes for its DSLR adapter, which can hold and support the weight of the camera within a balanced frame.

All in all, Gosky's latest 2019 spotting scope is not a bad shooting scope at all. If affordability is the game, then this is the entry-level price, with the mid-tier specs you are looking for.



$165.99


Emarth 20-60x60mm Porro Prism Spotting Scope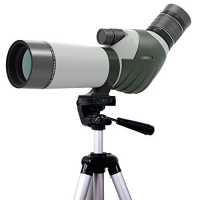 The Emarth angled spotting scope is built with a 20~60x standard magnification feature, with a focus on durability and waterproofing. It is angled at 45-degrees by default and is supported by BAK7 Porro prism optics.

As with other weather-resistant optical hardware, its optical tube is nitrogen-filled, ensuring that it doesn't fog up on colder weather conditions. The rest of the materials are similarly waterproof, allowing the user to forego the use of other protective covering when setting up the spotting scope.

Pros
Sufficiently durable
Performs well in harsher weathers as advertised






Our Take
To put your basic worries to rest, the biggest sales draw of this product, which is to use in harsher weather conditions, is more or less accurate. I'm not exactly sure if the individual components themselves are waterproof, but as a whole, it works well enough if the day's forecast wouldn't be as good as you expected.

The 84mm lens is definitely a sight to behold (pun intended). This thing just cranks up visibility to its technical maximum. You might even have the time to zoom into the brand labels of your shooting targets. Even better since it is built up to regular anti-fog standards. And as for light absorption, it's not top-notch, but definitely more than average.

Again, I'm not sure about the 60x maximum magnification rate when using it on other image-related sessions, but it is more than enough for your shooting sessions specifically.

One other thing I would like to point out is that this particular shooting scope seems much more shockproof than it seems. Maybe it's just the test model here, but it didn't have any apparent damage even after being dropped with a considerably loud thud.

To summarize, the Emarth angled spotting scope one is quite great. One of the better choices as a starting baseline investment for a shooting scope.

Vortex Optics Diamondback Spotting Scope
The Vortex Optics Diamondback Spotting Scope is a 20~60x maximum magnification-capable scope that is focused on heavy-duty performance. With its XR fully multi-coated lenses and built-in sunshade, it provides great light transmission in a controlled, tight manner.

The design incorporates a very sleek design that may not directly reflect its heavy-duty use, but this works well to keep the product compact, easy to deploy, as well as being convenient to store and carry around.
Pros
Very cool, sleek design
Combined specs make for really clear viewing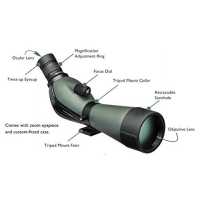 Our Take
Before we get into the gritty details, can we just pause a bit to gander at its marvelous design? It is just made so much sleeker than any other regular shooting scope out there. it actually looks more of a specialized instrument, rather than a generic spotting scope.

In fact, the glass build has a professional quality to it that is so pronounced, that it probably may be more suited for other academic purposes such as wildlife observation, or even astronomy. As a shooting session tool though, this quality combines very well with its superb light absorption qualities to make viewing your shooting performance at a distance an easy and effortless job.

If you are planning to use this as a hunting complement, then all the better. The magnification level, combined with its light absorption and picture-perfect clarity helps you detect the smallest wiggle or movement from distances starting from 500 yards.

Needless to say, as a sleek and compact designed tool, Holding it and stuffing it into its case is also just as convenient. Not really important per se, but still earns a few plus points in practical use.

I'd have to say I was surprisingly impressed by the Vortex Optics Diamondback Spotting Scope. While it did have a few focus-adjustment problems on really far targets beyond 500 yards, it performs really well on anything else.

Huicocy 20-60x60mm Spotting Scope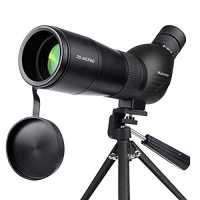 This particular Huicocy spotting scope is a 20~60x magnification-capable tool that is optimized for all types of digital applications. Whether it is digiscoping with a smartphone, or direct-mounting a DSLR, it provides all the necessary adjustment and hardware to make the configuration work.

The shooting scope has significant sections covered and/or made by rubber. This is advertised by the product as the ultimate non-slip feature that helps hold the scope in place for tracking accuracy.


Pros
Very easy, intuitive, near-instantaneous digiscoping setup
Excellent tracking accuracy
Cons
May not be as outdoor-proof as it seems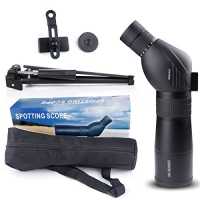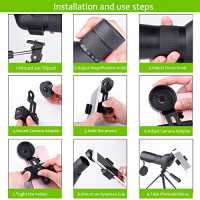 Our Take
Great things can come in smaller packages. At least, that is what this specific Huicocy spotting scope is trying to prove. It may be cheap, but you can get absolutely technical with its specs.

As advertised, this spotting scope works really well with any supplementary digital hardware. Well, I guess a simple tweak of the vertical slider where you screw the phone into place isn't exactly an innovation. but hey, it works better because it is much more convenient to adjust, hence more "optimized". This is in addition to the mount just being an overall solid piece of extra hardware.

It has a maximum magnification of 60x, but I believe that it is best used on ranges from 200 to about 600 yards. Tweaking the focus out at more than 800 yards starts to become a chore, consuming so much more time than I would like to in a single shooting session, even if it just for an extra minute or two.

The build quality is nice enough to feel solid, even with all the rubber grip and handles in place. Definitely not something that you would typically expect with a price tag of less than $100!

Overall, this Huicocy spotting scope isn't the best, but it really performs well on all of the basic features that you want a spotting scope would on a shooting range. Bonus points for it being an entry-level product, making it easily accessible to all enthusiasts who want a really affordable starting scope for their early sessions.


$65.95