5 Best Ankle Holster
When it comes to protecting your handgun and having the portability to carry it with you, a handgun holster is an essential device you will need. An ankle holster is a device that is used to hold in place and restrict any loose movements from a handgun. This holster attaches to your ankles securely and safely. Protecting yourself from harm's way is a serious matter, and every holster must provide easy access for the user to get to the handgun immediately with no wasted motion.
Now you might be wondering, why use an ankle holster when I can get a holster attached to my belt or arm? That is an excellent and very rational question since the holster would be located at an access point closer to your hand. In combat, having one in the ankle is usually hidden and unexpected. Furthermore, ankle holsters work great when drawing from positions other than standing. If you're crouched down, in a fetal position, or ducking away, it's more advantageous to have it in your ankle compared to having the holster on your belt. This is because you'd have to go back to a standing position to draw your gun, putting you in a vulnerable position.
With ankle holsters, one huge component to keep in mind is comfort and balance. Having an ankle strap helps with ease. Furthermore, you'll need to keep in mind the type of shoes and pants you wear. For maximum concealment, you'll want to wear trousers than are longer and a thicker boot to hide your handgun. Keep in mind; it'll take a little while to get used to having extra weight onto your ankles.
Now that we have the basics covered let's go over the best ankle holsters to purchase, and we'll explain why we love them.

Ankle Holster for Law Enforcement, Military, Personal Protection and Concealed Carry by Bear Armz Tactical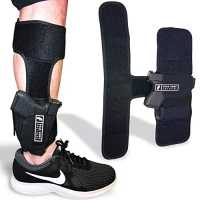 This ankle holster comes with different variations, including velcro retention, snap retention with a calf strap, and snap retention without calf strap. The strap fits most guns, whether its subcompact or compact pistols. Some of the types of brands of guns it fits are Smith & Wesson MP Shield 9mm, .40 & .45, Glock 26, Glock 27, Glock 30, Glock 42, Glock 43, P238, P938 Bodyguard, Beretta Nano, Springfield XDs & XDM, Sig, Kahr, Kimber Solo, Kel Tec, Walther, Bersa Thunder 380 Plus, Ruger LCR, LCP 380 & LCR 38, Taurus TCP, 709 Slim, PT738 & PT111, SCCY CPX-II, and similar sized guns. One size fits all.

The holster is built with an anti-slip design with a spare magazine pocket to hold an extra magazine, pepper spray, taser, or knives. With the two strap ankle holster, you can even fit double stack pistols, and they won't slip. It got an adjustable 8-13 inches in ankle circumference and maximum adjustment size of 16.5 inches in calf circumferences. There's an extra magazine retention strap, so two total straps to provide additional security for your firearm and extra magazine. There's also a lifetime warranty on this brand. Holster pocket is 2-¾ x 4 inches, and magazine pocket is 2 inches x 4 inches. The shipping weight is 1.9 ounces.
Pros
Extra magazine pocket is handy
Lightweight and comfortable
Secure and doesn't slip
One size fits all
Affordable price
Cons
Tough to fit bigger guns such as the shield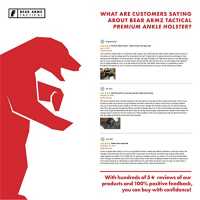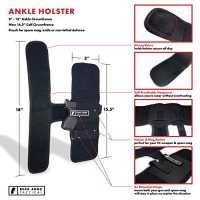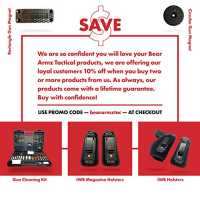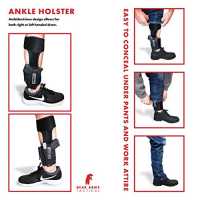 Our Take
This ankle holster works excellent for those of you with small to medium-sized handguns. If you have the above types of guns listed above, then you know it'll fit perfectly. We also love the fact that it's incredibly adjustable. Whether you have thick or skinny ankles, this holster gives you the ability to adjust the sizing to fit your ankles snuggly. Also, we love how there's an extra pocket for additional ammo or weaponry. Having an extra pocket for a taser, magazine, or other equipment is essential primarily because, in combat, your opponent wouldn't see it coming. Overall, we like the design and functionality of this holster. It's incredibly lightweight, breathable, and durable. Face it; you don't want to walk around with lead weights on your ankles, which slow you down when running or walking.

After experimenting with this holster for weeks, we couldn't recommend a better one. I spent a lot of time chasing after people going up and downstairs, sitting in a car in the humidity, and this holster is anti-slip, durable, and hidden. Even on a 14-hour shift, it's comfortable and breathable and, most importantly, doesn't hurt my ankle. If I'm tussling on the ground, I can quickly whip out the handgun in a second with one hand.
$13.99


Galco Ankle Glove Holster for Glock 43, RH, Black - AG800B
The Galco Ankle Glove holster is an excellent holder for the Glock 43 handgun. With this holster, it fits the exact dimensions of the specific pistol. Galco ankle holster is made of premium steerhide with a retention strap and unhooks with a thumb break. It has a velcro fastener that comfortably straps to your leg with a neoprene ankle band for extra security and protection. For comfortability, it has a genuine sheepskin padding.

Sometimes with generic holsters, you don't get the ideal comfort you'd like. That's why this holster prides on quality comfort with extra sheepskin padding. It's made from saddle leather and accommodates up to a 13-inch circumference. The product dimensions are 12 x 2.8 x 6 inches and weigh 9 ounces.
Pros
Maximum comfortable to wear 12-14 hours a day
Smooth draw to grab your handgun
Anti-slip and fits snug
Cons
Can be difficult to conceal if you have thicker ankles
Our Take
This ankle holster is a favorite for many police officers and military combat specialist. The best feature is the sheep wool padding you get. In combat, you never want to be distracted by anything, especially your ankle holster. The holster has a stiff leather but softens as you wear it. I like how this holster is tailored made for the Glock 43. In the past, I've bought other holsters that were said to fit every gun under the sun, yet it just wasn't installed properly. My recommendation is not to wear skinny jeans. Wear pants with some slack and breathing room to account for the holster you're going to be wearing.

I've found the draw is effortless. It's got a quick thumb release, so in a matter of milliseconds, you'll be in firing position. It's good to have an all-black holster. Sometimes any distinction or distortion in color/pattern can make the concealment challenging. The holster seems to blend in with my uniform, which is excellent!
$104.00


Ankle Gun Holster For Concealed Carry, Personal Protection by LPV Products
The LPV ankle holster is an ideal fit for many types of guns. It fits the Glock 19, 26, 27, 43, Ruger LCP LC9, XDS 45, M&P Shield 9mm, Bodyguard .380, and Sig Sauer P238 P365. The design makes it comfortable to carry any handgun, magazine, or tactical knife with ease and maximum comfort — the holster straps onto your ankle with a nylon strap located on the top velcro that easily fastens. The fastening can hold even the heaviest of guns with zero slippage. Lastly, the holster is adjustable, so it fits all calf sizes. For customers, there is a lifetime warranty on the LPV ankle holster.

With this holster, it comes with a soft ankle protection pad to keep it comfortable and ideal for carrying. The pocket is a smart elastic V-shaped design to hold your gun securely without any skid or bounce. To release and lock, there is a simple snap button. The gun is easily accessible with a simple snap or unsnaps to the holster — the gun with all full size, mid-size, compact, subcompact, and revolvers. The holster is made with neoprene, which is a breathable material ideal for long days of wearing. The product dimensions are 6.1 x 5.3 x 0.7 inches, and the shipping weight is 6.4 ounces.
Pros
Super comfortable to wear for long hours
Fits many sizes of pistols
Able to hold an extra magazine
Made to fit different ankle sizes
Cons
Can be a bit bulky and isn't the best concealment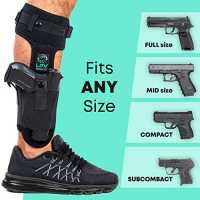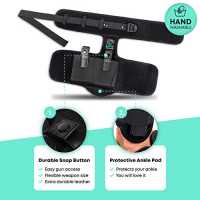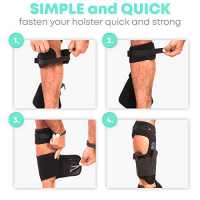 Our Take
If you're tired of holsters that don't fit right or slip away, then you've come to the right place. We love how the pocket holds your handgun firmly in place. Snap-on to close the pocket and unsnap to open. As a former police officer, I can draw out the gun in a shooting position in seconds, so I love having this out personally. Previously some holsters would tend to bruise my ankle because of the lack of protection. This holsters got an excellent ankle padding, so it feels very light and soft.

Next, if you're someone with big or small ankles, this will work for you. The holster adjusts for calf sizes ranging from 11-19 inches. The premium neoprene material that is used makes it breathable and doesn't absorb the sweat and odor from wearing it all day. Some of the leather holsters on the market tend to be extremely stiff and need to be broken in first, but not this one!

Overall we like the versatility of this holster. It seems to work for different handguns and different sized individuals. A small bonus is that the manufacturers are in Germany and not China. The quality seems to be more professional, and customer service is excellent.
$19.97


ComfortTac Ankle Holster with Calf Strap and Spare Magazine Pouch for Concealed Carry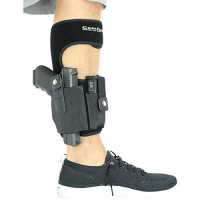 The Comfort Tac Ankle Holster is wearable equipment used to hold handguns for different sizes. This elastic holder can carry a variety of guns ranging from micro pistols to subcompact guns, compact guns, and even revolvers. For optimal use, the gun length should be under 6.5 inches and also a top of the slide to trigger guard of 2.5 inches or less such as the .22 LR, .380, 9mm, .40 S&W, .45 ACP, 10mm, .38SPL and .357.

The holster is made from a premium neoprene band to add comfort and breathability. There is a foam pad behind the gun from pressure points and unwanted bruises or discomfort. To hold the gun and the extra magazine is a simple metal snap to lock and unlock your handgun. This is made for silent unlocking and to quickly draw your pistol to shooting position. There is a spare mag pouch as well and a snap button retention strap, so it doesn't fall out. The holster generall fits most calf sizes up to a 17-inch calf. The shipping weight is 6.4 ounces.
Pros
Extremely affordable and best value
Easily concealable
Extremely comfortable
Cons
Isn't the best fit for Glock guns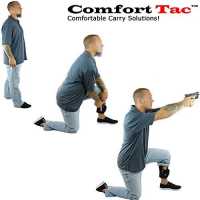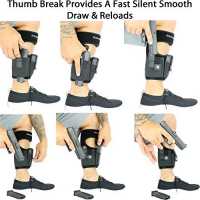 Our Take
For the price, this ComfortTac Ankle Holster is convenient for use. I have loaded the M&P shield onto this holster and an extra mag while hiking for 10 miles in the mountain wilderness. It was a comfortable fit and didn't hurt my ankles like other holsters out there with more rough materials such as leather. This was so comfortable I forgot I was wearing it!

We do love the overall sleek design of this holster. It's doesn't stick out or seem bulky, so any type of pants with extra room should be perfect for concealment. The velcro lasts at minimum 10,000 tears, so you know it's durable.
$16.97


Depring Ankle Holster for Concealed Carry Hidden Pistol Carrier for Right Left Handed Use Fits Subcompact Compact Handguns
Depring Ankle Holster is high quality and versatile wearable that is excellent for carrying handguns for concealment. The holster comes in 1st, 2nd, and 3rd generation and holds many types of guns. Some of the more popular firearms this ankle holster fits are Glock 36, 42, 43, 26, 27, M&P Shield, Bodyguard 380, Ruger LCP, and J Frame Revolvers. Also, it's great for carrying extra equipment such as spare magazines, pepper spray, tasers, and tactical knives. It's also ambidextrous, where it's designed to fit on either your right or left ankle and be adjusted in various ankle points. The holster uses velcro to fasten to your ankle securely and has a heavy-duty elastic that holds your gun. There's a retention strap that is a hook loop to lock and unlock your rifle safely. The size of the holster is 40cm x 12.5cm, which is 16-inch x 5 inches. The shipping weight is 2.4 ounces.
Pros
Fits and securely holds the most popular guns
Affordable and best value
Ambidextrous
Cons
No padding - not conducive for maximum comfort
Velcro may need to be replaced to last longer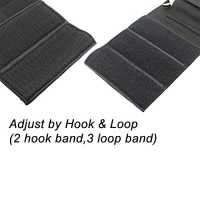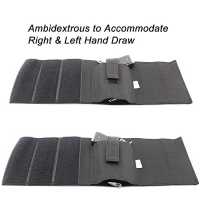 Our Take
Something unique about this ankle holster is its designs for ambidextrous folks. Sometimes in combat, you can throw yourself off guard by drawing from the left side if they think you are right-handed or you have a gun on the right ankle. It's a small adjustment that works in your favor. Or if you're left-handed, this will be great for you as well.

An area of improvement is that they don't have any padding that is behind the gun, so it could get uncomfortable on your ankles working long hours. However, the advantage of this is, there is less material, so it will be thinner and provide better concealment. Also, having a snap instead of a velcro piece would be better since the snap button won't get worn down like velcro over extended use. We do love the affordability of this product. Depending on the variation you purchase, it's listed at $9.99 or $16.95. If you require a lightweight holster with the versatility of holding some of the best handguns, this will be for you.
$6.99