5 Best Shooting Rest
The basic function of a shooting rest is to extend the user's stamina by significantly lowering arm fatigue and stress (due to recoil). They are also good tools to steady one's aim by default. If you're a recreational shooter or a hunter, you'd definitely want to invest in at least one for longer game sessions, especially if the session is particularly focused on just one spot like a good chunk of shooting sessions do.
Thus, we have selected some of the most balanced deals that you can get for a shooting rest. A good combination of affordable price and reliability that would set you far ahead for your active hobby.

Primos 65807 Gen 2 Jim Shockey Edition Deluxe Tri Pod Trigger Stick
The Primos 65807 Gen 2 Jim Shockey Edition Deluxe Tri Pod Trigger Stick is a 24~62 inch shooting tripod that is primarily made of aluminum for easy and sturdy transport. It is equipped with a removable V yoke, and offers fluid adjustment of both the handle and each of its legs.

A trigger system allows the shooting stick to easily adjust its height. By a simple flip of the switch, the setting can be locked to immediately set the desired height.
Pros
Rock-solid grip
Good build quality
Cons
Individual components may sometimes "underperform"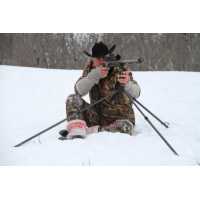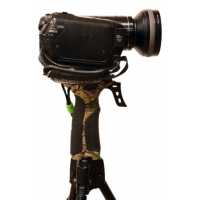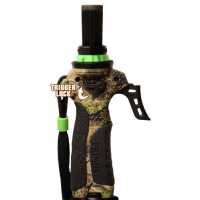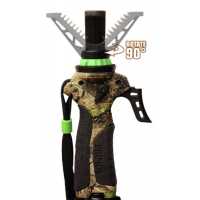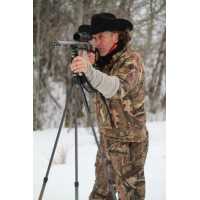 Our Take
Tripods are generally better as shooting rests, not because of its adjustability, but because of its flexibility. That is to say, it is a multi-objective investment. This is why the Primos 65807 Gen 2 Jim Shockey Edition Deluxe Tri Pod Trigger Stick is such a convenient choice in terms of maintenance.

Topping it off, the shooting rest experience. This thing is probably one of the best tools for bench rest accuracy in a shooting range. Because it's a tripod, adjusting can be made on the fly, for each shot, in case you're still trying to tweak those minute adjustments.

Build, stability and sturdiness are all given passing marks. I don't find the standard aluminum body used in a lot of tripods that reassuring, but I guess none of these really failed me just yet. It's satisfactory as far as durability goes. For the single, non-connected components at least. That's because…

The adjustment components tend to get loose occasionally over time. True, even my office chair does that all the time, but things get a little bit serious when you got a primed metal keg of tiny-cased explosives attached to it.

Thankfully Primos customer support is really responsive, and they are willing to immediately send spare components to replace whatever fault part you are having a problem with.

All in all, the Primos 65807 Gen 2 Jim Shockey Edition Deluxe Tri Pod Trigger Stick is an example of how mediocrity can actually be a factor in its consistent serviceability. The components, when they work together perform well, but individually they might have a few chinks that you would require immediate reporting to customer service.


Caldwell DeadShot FieldPod Adjustable Ambidextrous Rifle Shooting Rest for Outdoor Range and Hunting
The Caldwell DeadShot FieldPod Adjustable Ambidextrous Rifle Shooting Rest is a 20~42 inch shooting tripod that is built primarily for versatility and easy use. It can smoothly adjust its upper frame position, as well as being installed with a tension know that allows for even quicker adjustments.

The dual frame build help in firmly securing your gun in place, offering "maximum stability" before and after every shot. Lastly, this product is also advertised to prevent damage to your guns, by making the points of contact between it and the stand be less susceptible to wear and tear.
Pros
Very easy to carry
Variable medial adjustment
Cons
Questionable material quality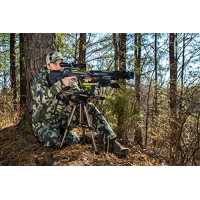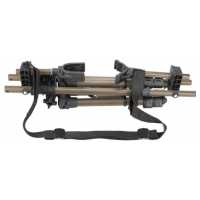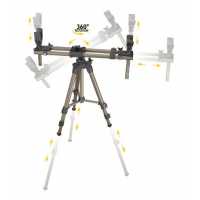 Our Take
It is always a good relief to know that the product works perfectly as advertised. The Caldwell DeadShot FieldPod Adjustable Ambidextrous Rifle Shooting Rest is not the textbook definition of this, but it comes close…. almost.

First, the build. The aluminum frame, coupled with its medial base configuration could make it feel too light for some users. If you don't feel confident in using lighter aluminum frames when this particular shooting rest may not be for you.

As for the components, it mostly works as advertised. When assembled, the setting locks into place correctly, and there is enough wiggle room in its minute adjustment for smaller position changes for your shooting preferences.

The problem, however, comes with the maximum options that you can have. At its optimal setting, a target distance of 60 yards would probably be the most optimal, unless you want the equipment to very, very slowly affect your accuracy. Vertical adjustment does not allow for easy uphill aiming, so it would mostly be serviceable only for straight and slightly higher targets.

Lastly, the individual components just seemingly fall under adjustment standards from time to time. It doesn't fall too much to become a risk to the user, but it definitely will affect your performance from time to time. And if the problem gets even worse, it might be the time to call customer service.

Overall, the Caldwell DeadShot FieldPod Adjustable Ambidextrous Rifle Shooting Rest isn't exactly, it performs admirably under the right conditions, but it would have at least benefited further from having more adjustment and configuration flexibility.


CTK PRECISION P3 Ultimate Shooting Rest
The CTK PRECISION P3 Ultimate Shooting Rest is a simple, yet sturdy, cross-pointed shooting rest that is built mainly for rifles and pistols. It uses a triple-point system that allows very solid mounting of any firearm. This is properly reinforced with its heavy-duty stainless steel construction and E-coat finishing.

If required for gun maintenance, this product also instantly doubles as a gun vise, increasing its function both in and out of the shooting range.
Pros
Very, very, solid grip
Absolute excellence in material and build quality
Cons
Users could waste so much time with its varied adjustment options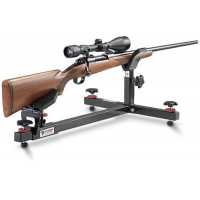 Our Take
Multi-purpose tripods fit the exact bill for the most versatile shooting rests by default. However, you might want something that could be flexible, but only strictly within the same gun applications related to your hobby. That is what the CTK PRECISION P3 Ultimate Shooting Rest, making it possible to switch "gun attachment modes" on the fly.

Due to having a smaller frame, and overall having fewer integrated components, this shooting rest opted to use mostly solid steel as its material base. Adjusters are crafted from plastic, but most of them are only in the form of handles and knobs.

Speaking of adjusters, it has a LOT of adjustment room. From straight up position changes down to tiny deviations in elevation and turned angle. However, this brings the inherent disadvantage of being forced to deal with this huge adjustment margin. You'd probably waste a lot of time with it just adjusting to the correct proportions of the particular firearm you are using.

When the additional attachment is installed, it instantly becomes a gun vice. In the field, this could be beneficial if you plan on mechanically tweaking your guns during your sessions. When carried over to a desk, it turns into a nice gun maintenance and inspection tool even if away from any active shooting action.

When receiving the product for the first time it will be packaged very neatly with all other components labelled properly and each part groups separated by plastic wraps. Not exactly an application advantage, but it is nice and convenient to have a product that is easy to assemble by simple organization.

To summarize, the CTK PRECISION P3 Ultimate Shooting Rest is an excellent, solid shooting rest. Build material is great, and the grip is very sturdy that it can even double as a gun vise when needed to use in such fashion.

$134.99


Caldwell Lead Sled FCX Adjustable Ambidextrous Recoil Reducing Rifle Shooting Rest
The Caldwell Lead Sled FCX Adjustable Ambidextrous Recoil Reducing Rifle Shooting Rest, as its name suggests, is a shooting rest that is configured to have its adjustments easily accessible regardless of the user's dominant arm.

It features an elevation lock knob, a removable control arm handle, and a rear elevation adjuster. These three holds the entire 2-component frame using a wide range of minute-position gradation levels, all without the need to remove the gun once it is already firmly in place.
Pros
Recoil reduction beast
Lives up to its advertised "ambidextrous" features
Cons
Only satisfactory in precision control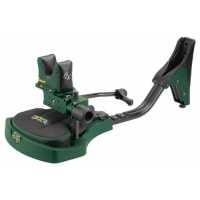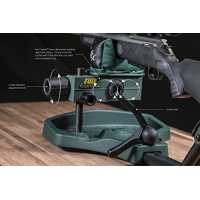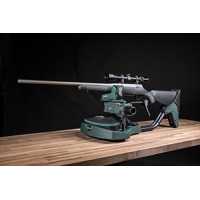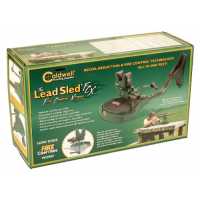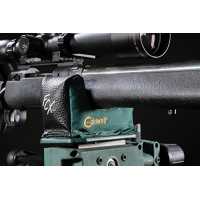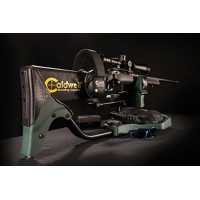 Our Take
The thing about shooting rests, is that they are mostly already ambidextrous by design… because there is no particular arm position configuration that it adheres to. That being said, why exactly does the Caldwell Lead Sled FCX Adjustable Ambidextrous Recoil Reducing Rifle Shooting Rest pride itself as ambidextrous?

Long story short, it's the adjustment. Yes, anti-climactic I know, but that really is all there is to it. A slightly better look at the product will have you notice that all of the adjusters are centered on the main base. And I meant that literally, the knobs, control handles, and elevation adjusters are positioned parallel to the main gun stock rest.

This then allows the user to adjust the shooting rest as he or she shoots, regardless of which dominant hand is used for the gun. Very simple, yet very convenient. It's not a deal-breaker, it in practice it really makes it so much easier to use than other shooting rests.

Now, for its performance quality. The super solid grip on the entire rest, plus the sturdy build of the gun stock holder makes it an excellent recoil reduction tool. It doesn't completely remove the oomph of course, but it damn well makes it feel insignificant even for higher caliber rifles.

In terms of precision fire control for steady aiming though, it would rate it as so-so. It doesn't really significantly help to clear that aim, even if it does manage to steady your gun within proper shooting rest standards.

I mean, it's not terrible, but if you really want shooting steady shots, then this product might not be the optimal shooting rest for you.


BOG-Pod RLD Black Shooting Rest with Lightweight Design, USR and Telescoping Legs
The BOG-Pod RLD Black Shooting Rest is a 22~68 inch shooting tripod that is designed with additional adjustment features for better optimization of different mounting hardware. It is equipped with telescoping legs with very visible inch markers for quicker adjustments, and built using lightweight aluminum to compensate for its relative size.

Includes a "weather-resistant" carry case, as well as an Allen wrench for component tightening and adjustments.
Pros
Allows for active adjustment
Excellent individual components
Cons
Adjustment configured differently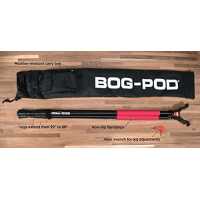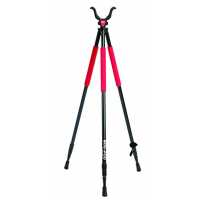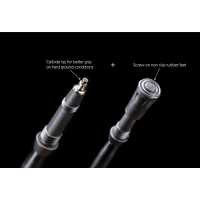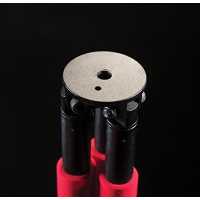 Our Take
How important is it to have the option to adjust your shooting rest on the fly? Maybe a bit more than you think, at least that's what the BOG-Pod RLD Black Shooting Rest with Lightweight Design, USR and Telescoping Legs is trying to advertise.

Now primarily, as a tripod alone, this product feels very, very stable. The fact that you can easily adjust to within exactly one each for each leg means you can directly compensate for any ground leveling imperfections almost instantly. This is, of course, a definite plus when you're shooting out in the field, like when hunting for game.

In addition, the flexibility of the setup means that you never really have to settle for just one type of adjustment each session, heck probably on each shot. In a way, it is BOTH steady and movable at the same time, although of course, it would still take a few seconds each round for each adjustment if you intend to use it that way.

As for the aluminum build, again this does not reduce its usability, but some people might not really want the light and flimsy-like feel of such lightweight metal. If you're worried about material integrity though, don't fret, it is as solid as it can get for its steady aiming purposes.

One definite minus for this product is that, while most tripods are configured to have the same type of adjustment , this goes for a rather different approach. Instead of being designed to use flip levers, it has this very weird twisting lock type on its center. If you frequently switch mounting hardware on your tripod, you may find this a bit confusing to deal with on the first week.

To cap things off, the BOG-Pod RLD Black Shooting Rest with Lightweight Design, USR and Telescoping Legs is a solid piece of shooting rest hardware that can be used most efficiently for active adjustment. Just be wary that it has a slightly different adjustment features than the ones you might already frequently use.