4 Best Shooting Mats
A good shooting mat is an absolute necessity if you don't want your limbs to meet the hard concrete or the soft soil on the ground. It is simply all about comfort, and there's nothing too technical about it.
This is why knowing how to shoot prone on it first is essential in choosing the right shooting mat for you. Pockets and extra compartments may be seen as convenient, but if it compromises the basic rule of comfort, then it's not better than sitting on your duffle bag.
For your convenience, here are the top affordable shooting mat picks that we have chosen.

VISM by NcStar Rifle Case Shooting Mat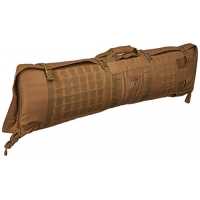 The VISM by NcStar Rifle Case Shooting Mat is a heavy-duty shooting mat built with quality PVC material and padded panels. When unfolded, the entire rifle case turns into a 66 x 35 inch comfortable shooting mat.

The zippers are installed as per standard to reduce potential damage or physical stress. Elastic bands throughout the product provide room for additional cartridges (10 total, designed to fit .30 cal cartridges).

Pros
Lots of pockets and compartments
Great for casual use
Good enough bang for your buck
Cons
Way too many pockets and compartments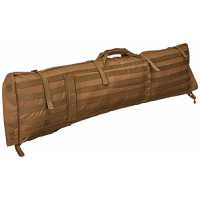 Our Take
In bags, there is the typical idea that the more compartments, the more potentially flexible it is. Well, the same is true with shooting mats. The VISM by NcStar Rifle Case Shooting Mat may perhaps be the epitome of that idea, both as a bag and as a mat… for good and for worse.

Let's start with the overall material. The manufacturers have advertised that it is made of PVC. It ain't canvas, but it works well enough for the type of things it is designed to carry. The individual .30 caliber cartridge-carrying elastic bands feel sturdy enough, and won't snap or break unless they're dealt with some sort of significant scraping force (like when it pressed sideways).

As a shooting mat, the very same material, plus the elastic bands, form this sort of balanced padding. It stays relatively firm no matter the temperature, and feels solid enough that it can seem potentially capable of surviving for years. This is even more of a positive point when you consider its relatively lower price point/ really gives a great bang for your buck.

As for the number of pockets and different storage compartments, it actually feels wasteful not being able to use even half of them at a time. It has way too many pockets for my casual use. Not a bad thing of course, just that I'd probably like to make good use of that investment even more.

To summarize an already brief review, the VISM by NcStar Rifle Case Shooting Mat is by far the best quality shooting mat/bag… in terms of being reasonable for its price. May not be too much, but you can definitely feel that you get a quality level that's a bit higher than what you actually paid for.

$75.92


Boyt Harness Bob Allen Tactical Shooting Mat
The Boyt Harness Bob Allen Tactical Shooting Mat is advertised with convenience and speed of use in mind. It is built for quick setups and easy storage. It can be worn and carried over with relative comfort thanks to its closed cell-foam material build.

This particular shooting mat is also water-resistant, both its main coated poly body and webbing strap.
Pros
Relatively water-proof
Large medial coverage area
Balanced price
Cons
Long enough, but probably not wide enough for some users
Our Take
If you can't carry it with ease, you won't be able to use it as you please. That is perhaps the design motif of the Boyt Harness Bob Allen Tactical Shooting Mat, both in how it is used as a carry case, and how it deploys as a shooting mat.

Far too many shooting mats will have one too many straps and folds that it actually becomes a chore to deploy each use when other things are attached to it. This one is straightforward. It carries everything on its side, and unlocks quickly to roll out and use in just mere seconds.

When rolled out, it has an overall area coverage of 27 x 85 inches. If you happen to be somewhere over six feet tall, you're in good company with the Boyt Harness Bob Allen Tactical Shooting Mat. You can rest your whole body onto it with just enough medial wiggle room.

As for the padding, it's just alright. Nothing of particular negative concern and nothing too fancy.

As an added bonus, this shooting mat also has an advertised polyester water resistance rating of 600D. This potentially makes it easier to carry around during a drizzle, before you lay out the dry, untouched part inside. Personally, this is not exactly a positive deal-breaker for me, but hey, I'm not complaining.

So yeah, I really don't have much to say about the Boyt Harness Bob Allen Tactical Shooting Mat other than it is a good, big shooting mat that serves its basic design well while still being quite affordable to the budget-conscious shooting enthusiast.

$48.99


MidwayUSA Pro Series Competition Shooting Mat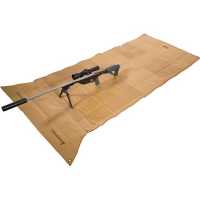 The MidwayUSA Pro Series Competition Shooting Mat is an enhanced shooting mat that is made wide and longer for larger user movement room. It is claimed to have better padding, and includes metal stakes to properly secure the mat in place.

For its compartments, it has each of two accessory pockets and pen pockets. An extra sewn webbing "pocket" is built into the padding to easily secure any bipod in place. The padding is also color-coded to let the user know the optimal spots to position your limb joints.
Pros
Metal stakes are always welcome
Color-coded padding
Cons
So-so "padding"
Might be shorter than expected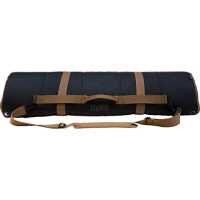 Our Take
Shooting in the prone position can be a chore to optimize. It's not just about immediate comfort, you also have to factor in the best limb placement to diffuse recoil in the best possible way. Nothing does this more intuitively than the MidwayUSA Pro Series Competition Shooting Mat. It combines a number of seemingly simple features to get that nice prone position shooting experience.

The padding itself is probably just okay for most people. It's actually a bit in the negative side for me, but that's just because I like that comfy sense of squish when your limbs press against the padding. I'd give this criterion an "okay" pass I suppose.

The metals stakes are perhaps the best thing that this product can offer. True, it's not particularly unique for this shooting mat, but I appreciate the option whenever it is possible to hold your shooting mat a lot more firmly into place.

The color-coded padding lets you know the red-zones of optimal position for your elbows and knees, so that you can get that position right more or less consistently without spending too much time adjusting. Not a plus if you don't have problems with positioning, but a welcome addition nonetheless.

Finally its size, which is 35.5 by 73.5 inches, may perhaps be a bit short for some people. But, it should be adequate enough for most users so not much of a problem here.

To complete this brief review, the MidwayUSA Pro Series Competition Shooting Mat may not be the best of the best, but it is fairly close. If comes with a few drawbacks, namely its padding and the shorter medial length, but the convenience of use compensates for it quite well.


VooDoo Tactical Roll Up Shooters Mat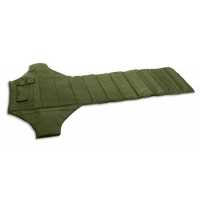 The VooDoo Tactical Roll Up Shooter's Mat is a multi-purpose mat and carrying case with a slightly higher priority for portability and deployment. It is very lightweight, yet is advertised to be very durable as well.

The mat is padded, with additional ammo and gear pouches on the upper, frontal side when deployed as a mat. It comes in different colors for your preference.
Pros
Super portable
Deployment is instantaneous
Quite durable
Cons
Very small
Almost negligible compartments
Our Take
Rugged, simple, but reliable. That's the TL; DR version of my review for the VooDoo Tactical Roll Up Shooter's Mat. It's just that easy to use and deploy. If you want just a tiny bit more detail, then read on.

Topping it off, let's just mention how compact this thing is. At 21 x 66 inches, this one is perhaps the smallest entry out of this entire list. There is literally no medial wiggle room, so no adjustments can be made horizontally. Which is usually seen as a not-so-good thing, until...

… you realize that it is also the most portable for all shooting mats in this list. It rolls up easily, forming a very small pack that you can even hold with your one hand. If rapid deployment, ease-of-use, and convenience are your primary concerns, then put them to complete rest with the VooDoo Tactical Roll Up Shooters Mat.

As an added bonus, the mat itself seemed very durable. It withstood rugged handling and rough terrain, as well as a few physical shock-related accidents. It's not that much of a stretch to predict that it can last for years even with moderate rough use.

The additional attachments are a nice bonus, but it's not exactly as convenient as advertised. You can put a few smaller things on the ammo and gear pouches, but that's about it. You won't be able to stuff anything on it that would compromise its base level of portability, and that's a good thing.

Oh and the padding? It's alright, quite comfortable to within proper standards. Don't expect a cushion though.

You want an even better bonus on this shooting mat? It's cheap! Well, understandably cheaper since it is so much smaller than the other three entries on this list.