5 Best Concealed Carry Holsters
Hanging your shotgun around your appendix or waist is not a cool idea because it might negatively drive attention. Besides, placing the gun in your belt is not the safest way of carrying a gun. Therefore, a concealed carry holster is an obvious requirement for most of today's gun users.
A concealed carry holster provides you comfort and ease, as well as guarantee the maximum safety of carrying a gun.
With a concealed carry holster, chances of getting your gun stuck is eliminated, at the same time, offers a better and fast hold and reach. It ensures the gun stays in one place and doesn't flail around, which is dangerous.
Having a concealed carry holster as a shooter is essential; therefore, we've listed down the most recommended ones for easy picking and validation.
5 Best Concealed Carry Holsters

Depring Concealed Carry Holsters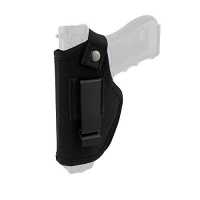 The Depring Concealed Carry Holster is ultimately an IWB OWB holster with an inside and outside of the waistband and supports both left and right-handers. The holster is made for daily carry and is pretty affordable. It is made up of 800D Nylon to make sure its durability. There are remolded metal clips that can fit up to 2-inch wide waist belt. The heavy-duty belt clip keeps your gun steady in one place. And there are powerful snap buttons on the retention strap for maximum safety.
Pros
It is fully ambidextrous
Universal fit, compatible with a wide range of guns
Silent draw
Cons
The padded material is way too thick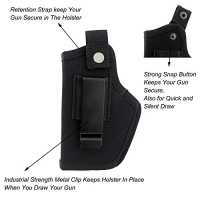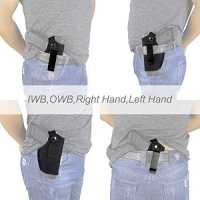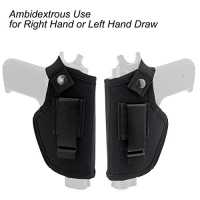 Our Take
This concealed carry holster from Depring is an excellent product due to its durability and quality. The material used in its construction is magnificent, which ensures it's dependable and long-lasting. There's also a snap button, which is impressive since it's easy to pull on and off while maintaining everything is tight and secure in one place.

The great thing about it is that it is a universal fit. It fits most of the subcompacts and compact handguns, and it can be easily adjusted according to your firearm. For bigger weapons, there is an optional cut that proves quite handy for some gun users.

The metal slips in and out very easily without any itching and scratching, and its trigger is covered up very gracefully. The strap for holding the gun is made of stretchable materials to accommodate a variety of gun sizes.

There's one downside, however, and that's the thickness of the material or the stuff it is padded. Because its "too thick," it affects the overall concealment. Nonetheless, it's still one of the highly recommended concealed carry holsters out there.
$10.99


Tactical Pancake Gun Holster Houston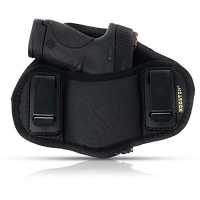 The Tactical Pancake Gun Holster is designed in the US and is handcrafted in Argentina. It is 100% safe, comfortable, and easy to use as concealment for belts up to 1.75" wide. The holster is lined inside to ensure the durability and protection of the firearm. It has a sturdy metal clip for maximum grip and safety. The holster is water or sweat resistant. The holster is stitched multiple times, reinforcing stockings and Nylon borders for maximum strength. The holster is IWB appendix carry model for right-handers.
Pros
Water/sweat resistant
Durable and pretty comfortable
Quality of material is guaranteed
Cons
IWB
Limited to right-handers only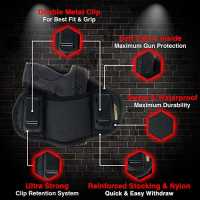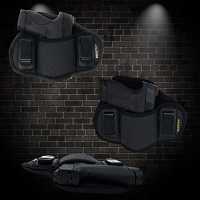 Our Take
I would say that after trying this holster, I could testify that this offers the maximum amount of comfort. The design is exquisite and resilient, ensuring the full safety of the gun.

This holster features a water and sweat resistance. It has Nylon borders and an inside fabric that adds protection. The multiple stitches and ECO leather material also improves the holster's strength and durability.

The holster can fit a vast range of guns like Glock 19 23 32 26 27 33 30, Beretta Nano, Sig P320, Hi-Point Sub Compac, etc. All in all, I have found this holster as one of the best holsters for right-handers.
$30.13


TacX Pro Gear Universal IWB Holster
The Concealed Carry Holster by TacX Pro Gear is for IWB use. The retention straps are robust. There is a premium thumb break button that will only need a little flick of your thumb to draw out the pistol. The product is designed with extra thick material for its protection. The belt clip is also made up of solid metal that will never bend or snap even if you run or jump. Premium and moisture-wicking Neoprene is used for its construction. This is a universal design fully fit for revolvers, full-size pistols, and sub-compacts as well. It comes with Neoprene belt clip holster for carrying a spare magazine easily. The product holds a lifetime guarantee by TacX Pro Gear against manufacturer defects.
Pros
Premium Quality Neoprene material
Universal design
Flexible
Fully secure
Moisture resistant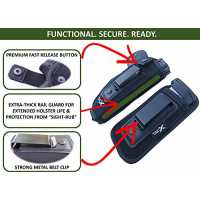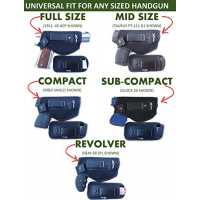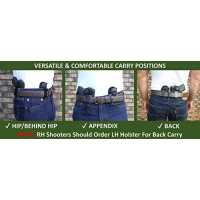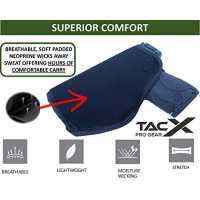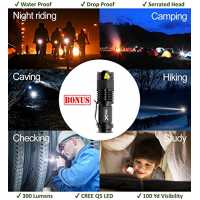 Our Take
This holster by TacX Pro Gear is a complete gem. And I would say that it is worth every penny. It has everything an expert shooter looks for in a concealed carry holster: durability, comfort, strength, and flexibility.

The Neoprene material used in the holster is comforting, ensuring you feel at ease. Aside from that, it also helps in keeping away moisture build, such as water or sweat. With the quality of materials used, you'll see it at first glance how durable this holster is, and, guess what, it'll last for a lifetime. Further, there's a lifetime warranty that you could take advantage of.

Structure-wise, the plastic used in this holster is not hard at all; it is very flexible and padded in such a way it cab adjust beautifully with your skin, and very lightweight as well (5.6 ounces).

The design of this holster is universal -- surprisingly fitting each of the guns I possess. It provides a pretty fast draw because of the way the thumb snap button is made. It has an upgraded rail guard for extended life. To conclude, it is one of the best-concealed carry holsters, indeed.
$17.97


ComfortTac Concealed Carry Holster
The Ultimate Concealed Carry Holster by ComfortTac is made up of industrial-grade material both for inside and outside waistband usage. It has a sturdy metal belt clip and a metal snap on the Nylon retention strap. It is designed to fit most of the small pistols like Smith and Wesson Bodyguard. 380 etc. It has a comfortable and concealed carry, and it guarantees durability and quality. The product is quite light in weight as it only weighs 4.6 ounces. It comes with a 30 day buy and try 100% Money-Back Guarantee as well.
Pros
Flexible yet firm
Comfortable and safe
Affordable
Cons
Only for a short range of pistols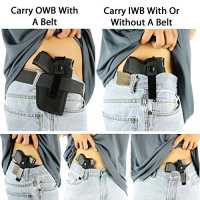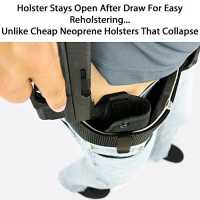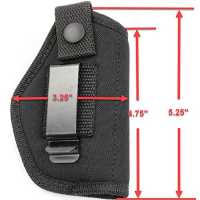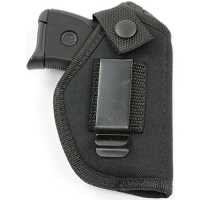 Our Take
Considering the price of the product, I will rate this holster among the top ones because it fulfills all the requirements of top-notch concealment. I like the notion that the strap remains fully wide open, allowing the user to insert in and out the weapon very easily. The snap button is also sort of helpful in a fast draw.

This holster is made of top-quality materials. It is comfortable and easy to wear and does not feel heavy at any moment at all. I must say that it fits my gun pretty well, like most holsters I've tried. But, the difference is, it enables added support to make each carry a breeze.

Overall, considering the price, this is a fantastic holster to try. And, if this failed to reach your expectations, it comes with a 30-day cash back guarantee.
$13.97


Concealment Express IWB KYDEX Holster
This holster is an IWB KYDEX Holster by Concealment Express with an ultra-comfort molded shell with a FOMI belt. It comes in black and has a custom vacuum-formed hard shell for an exact fit for the selected gun. It has adjustable retentions with Posi-'CLICK, ' which makes it entirely user-friendly. The product is very lightweight and comfortable as it only carries 3 ounces. The material used in this holster is 1.5" Fiber Reinforced ABS Plastic with Stealth No-Logo finish. It has an overcut open face, which helps in the accommodation of threaded barrels. It carries a full-length sweat guard all over it with a sight shield. There is an adjustable cant from -5 to +20 degrees. The CAD/CAM is designed to fit precisely to the specifications of any of the guns relatively. The polished hand shell ensures that there are no edges at all.
Pros
Adjustability
Comfortable
Fully secure due to its minimal size and shape
Easy to move and remove
Unconditional lifetime guarantee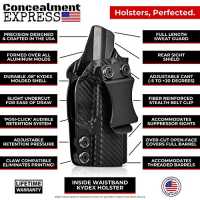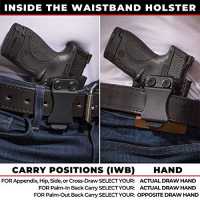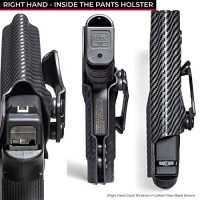 Our Take
What I like most about this concealed carry holster is the fact that it possesses an Ultra-Comfort Chamfered Design. The unique designs help in its comfort as well as gives the holster a smooth ramp. The chamfering is made to avoid any hardpoints on the holster that, in other cases, creates an uncomfortable and unnecessary contact with your body. It is also very secure and safe, and there is no possible way that the gun would ever fall out of the holster, giving a fully concealed and secured performance.

The holster is very slim, and it is pretty comfortable; you can carry it with you all day long and not even feel for a moment that it's there. It is adjustable depending on whether to use it around the appendix or on the side of your body. The holster is very easy to remove due to its minimal size, which is efficient, effective, and accurate to the exact structure and shape.

The great thing about it is that it comes with an unconditional lifetime guarantee. The holster provides more than enough space for the height sights, and it widely open at the muzzle end. This is the holster which everyone must use once in there lifetime, I've had an enjoyable experience, and I hope you will too have a good time with this great product.
$42.95