6 Best Sig P365 Holsters
A holster's primary purpose is to avoid unnecessary or undesired movement of the shotgun around the body. Holsters are made with sturdy materials to ensure its in shape at all times -- whether it's drawn or not. Another purpose of the holster is to secure the gun while running, jumping, bending, or any required movement.
Holster vary in different gun sizes and shapes. In this list, we'll discuss a specific holster for a particular gun -- the Sig P365 Holsters. This particular gun is quite easy to conceal and carry as it is light in weight. It is chambered in 9mm and is rated for +P ammunition. The holsters made for this gun are unique since its one of the most commonly used weapon nowadays.
Even though these holsters are constructed for one specific gun, there are still plenty of aspects to look into before clicking the purchase button. And, to make life easy for all Sig P365 users, we're going to share our top pick Sig P365 holsters, and tackle their advantages and disadvantages to guide you in making that decision.

B.B.F. Make IWB KYDEX Holster
This rugged .08" KYDEX Holster is solid and light in weight. Its a concealed carry with top-notch comfort. It guarantees full security for your Sig P365 and ensures it will never fall out at any situation. A belt clip of standard 1.5" can be customized as it comes with a Philips screwdriver. The steel hardware can be adjusted from 0 to 15 degrees. The product comes with a lifetime warranty for a replacement or a full refund of the purchase price. It has adjustable retention pressure, which helps in a faster draw. All adjustments can be made effortlessly and pretty quickly.
Pros
Good retention
Super safe
Adjustable and free for customization
Affordable
Cons
Sharp edges might scratch your pistol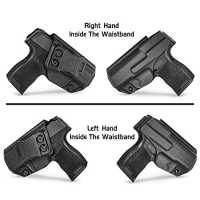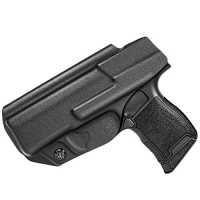 Our Take
This holster from B.B.F. is the obvious choice for a concealed carry due to its well packed structure that's gracefully and appropriately designed for your Sig. The model fits the gun like a hand fits in the glove. This holster ensures 100% security to your firearm regardless of your varying position and situations.

The bigger plus in the holster is the fast and unbelievably smooth draw it provides. The holster's retention are adjustable, so that you can arrange it according to your requirements. This quality makes it exceptional in its performance. You will never have to hesitate a second drawing your gun at any situation. Or, worry about scratching your gun unintentionally. I've tried drawing the gun so many times with different speeds and every time it feel the same smooth draw out.

The company understands the importance of mental satisfaction of the customers. Hence, all aspects that matter the most to all Sig P365 users are covered. The fit, the durability, and maximum comfort are all prioritized.

We highly recommend this holster for your Sig. If all things failed, the company offers full warranty or refund if your not satisfied with the holster's performance.
$26.99


Tulster Sig P365 w/TLR-6 Holster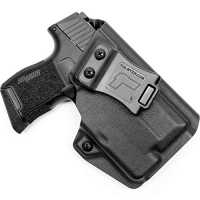 This product comes with a customizable angle or cants from 0 to around 30 degrees due to its forward hole that's oblong. The positive retention point is also fully adjustable.

It has minimal to zero drag until retention point that's keeping the holster wears down to a minimum. To aid in re-holstering, it has a sweat shield all over that prevents your clothing from sticking to the opening. It has a 1.5" amazing clip for faster movement of taking the gun in and out of the holster. It is an IWB profile holster that's only for right-hand users.
Pros
Quality KYDEX material
Holds the gun with an audible click
Smooth draw
Installed TLR-6
Firm and comfortable
Cons
No spare space for magazines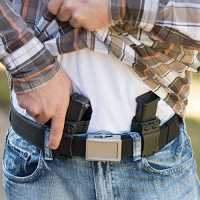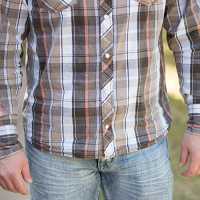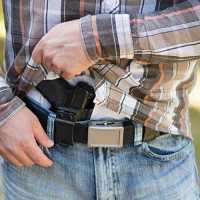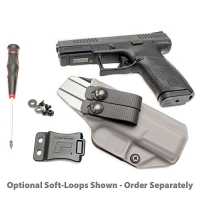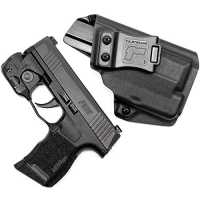 Our Take
To me, this particular holster is of brilliant quality fit for your Sig P365. I like the fact that it has the Streamlight TLR-6 already installed in it. The clip feels quality, making drawing smoothly.

The adjustability of this holster is just remarkable; the sturdy material of Kydex comes with screws for adjusting both the cant and the retention.

After trying it all day, I can confidently say that it is very comfortable in its structure, shape, and weight. There is an "audible click" when you put the firearm in the holster, which is very assuring. For its price, I would say that this product is worth spending, especially with the security it offers.
$64.97


CYTAC Sig P365 Holsters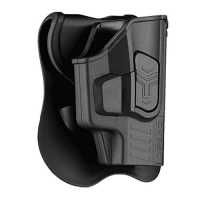 Sig P365 holster by CYTAC is made for carrying outside the waistband. It is a custom fit for a 9mm SIG SAUER P365 Micro-compact size, P365 XL and P365 SAS as well. The holster won't release the gun until the release button is pressed.

This holster is structured from high-quality polymer, making it lightweight and long-lasting. It features top-notch resistance to water, sweat, and wear -- perfect for any conditions. And cleaning the holster after using it is very easy.

It has a paddle design that fits very quickly, and it is fully adjustable to 360 degrees.
Pros
Perfect fit.
Comfortable and fully safe
Easy and fast draw
Washable and long-lasting
Adjustable to 360 degrees
Military-grade polymer
Cons
A bit tight for some guns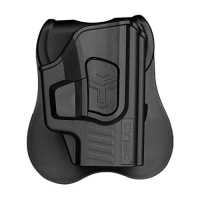 Our Take
This holster is unique due to its construction. First, it's not made up of neoprene or some sturdy leather; instead, it is built with polymers that are entirely washable. And it's military-grade polymer material is also a sign of how durable and long-lasting this product is. It can work under extreme temperatures, giving you unparalleled comfort. Yes, it's not as comfortable compared to leather, but this holster is efficient in its structure and purpose.

The package includes a Pistol Pouch, an Allen key, and a Paddle Part. The pistol pouch is a full concealed carry under loose shirts or other stuff. There's an auto-lock system that provides a faster draw and locking mechanism safety. The pistol pouch holds the trigger guard of the weapon with an index finger release button.

The paddle part supports replacement with a belt clip. The paddle part can be adjusted fully up to 360 degrees by using the Allen key. For all of its above features, this holster falls in the category of our most favorite holsters in recent times.
$28.77


Fobus 365ND Evolution Paddle Holster
The holster by Fobus is a specific fit only for the Sig Sauer P365. The package weighs only 3.2 ounces. The holster itself weighs only 2.56 ounces making it very very comfortable to wear. The high-quality polymer guarantees the durability and long-lasting efficiency of the product. It comes with mag pouches, which are also made up of high-density polymers. You can carry this holster even for a lifetime.
Pros
Exceptionally comfortable.
Quality materials
Durable and long-lasting
Very light in weight
It comes with a mag pouch for extra ammunition.
Affordable yet very efficient
Cons
It does not allow any adjustments.
Our Take
This is without any doubt the best holster which I've used in this particular season. Although I have tested many other great holsters, this one stands out the most.

The holster comes with a mag pouch, and still, it weighs unbelievably only 2.6 ounces. I'm amazed by the comfort this product offers to the one who wears. I wore it all day long, and not even for a second; I could recognize that I'm wearing any holster along with my gun. This is also due to its very compact size and shape. It is not too thick but still tough enough to ensure durability and longevity. The magazine's pouches are also made up of premium quality polymer along with the holster itself. And that gives extra space for carrying more ammo. The draw is also quite smooth and quick, and it offers excellent retention.

Tulster Sig P365 Holster IWB Profile Holster - Right Hand
The holster comes with a minimal to zero drag until retention point keeping holster wears down to a minimum. It carries a customizable cant, which can be adjusted from 0 to 30 degrees using the forward hole as it is oblong. The holster by Tulster has a sweat shield all over it to help you while re-holstering through an indexing point that kept your garments out of the way. It has adjustable positive retention points, which give a noticeable audible click when the gun is holstered. The draw is made more accessible with a 1.5" quick clip.
Pros
Comfortable
Lightweight
Concealed carry and fully secure
Audible click
Smooth draw
Cons
Belt clips need improvement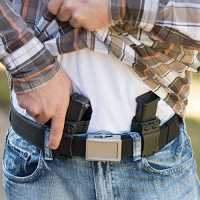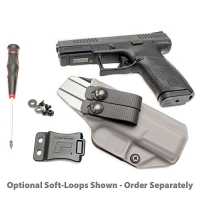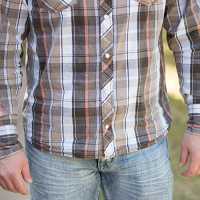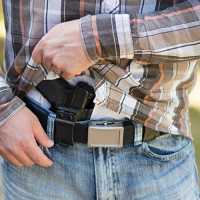 Our Take
This Sig P365 holster is an IWB with a very concealed design and a thin layer of polymer, which makes it lighter in weight and more comfortable to carry for a more extended time. The clips are durable and could stand the test of time. The belt clip has an edge at the lower side by which the belt is caught.

This holster is designed in a way that the grip of the pistol remains empty, keeping other materials away from it. This is a great deal since you don't have to re-manage or adjust the gun again, and again, you can make a tight grip while the gun is inside the holster.
$64.97


Relentless Tactical The Ultimate Suede Leather IWB Holster
Relentless Tactical's leather holster is an IWB Holster designed to fit most of the subcompacts 9mm and large and also the Sig P365. The premium quality Nylon is used in its making rather than the cheap or inferior quality leather. The quality of the product is guaranteed as they provide a lifetime warranty as well. It is handmade by the American Craftsmen and built with genuine USA suede leather, with an effective concealment and quick reliable access. The product is form-fitted and dependable. No synthetic materials are used in its making.
Pros
Maximum comfort
Durable
Ensures full safety
Quality leather is used in its construction
Cons
Difficult to re-holster quickly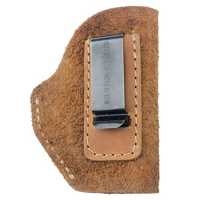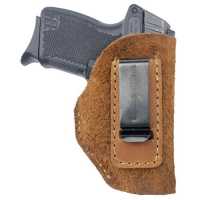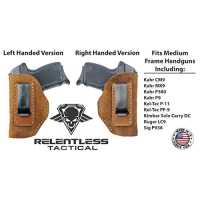 Our Take
For comfortability, this holster carries full marks because it is made up of high-quality Nylon rather than the cheap leather so, it has a very smooth texture. The product is very light in weight due to its material, which adds more comfort.

For the draw, I would say it is easy and fast, but there's a drawback, re-holstering is a bit challenging. Though, it is a fully concealed carry holster and provides maximum security.

The holster's material is of top-quality. It is handcrafted to satisfy through time. The holster is entirely dependable as the gun remains completely safe, and the retention straps are tight enough to prevent falling out — overall, an excellent piece for its price.
$24.99