7 Best Shoulder Holsters
If you are a shooter and you are fond of shooting in the wild or anywhere else, then you should never compromise your comfort. With a range of guns by your side, it is a challenging task. It always has been a question among shooters on how they can effectively manage their pistols and rifles around. So, in this case, you need a shoulder holster; it is something that allows you to keep and manage every kind of pistol you have with you.
Now the most important thing to look for is the range (of stuff it can keep) of the shoulder holster so that you'll never leave behind anything behind, keeping a whole range and variety of objects with you. This is where holsters are remarkable.
As it can be very tricky to identify which fits best to your requirements, I have been looking thoroughly over the internet to find the best shoulder holsters that features capacity and comfortability. Without further ado, here are the Best Shoulder Holsters that amazed me the most.

XAegis Adjustable Vertical Shoulder Holster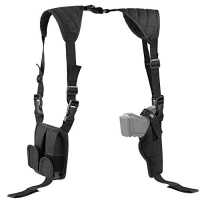 The Vertical Shoulder Holster by XAegis fits almost all the most popular kinds of pistols -- including handguns with 3.5" to 5" Barrel. Having velcro straps and buckles, it is fully adjustable. Due to its elastic straps, it fits every size and shape. It can be used for both right and left-handers only by switching holster and mag pouch around. Premium Ballistic Nylon is used with durable thread, which adds to its durability. It has a double thumb break snaps, excellent gun retention, and double mag pouch, with a tie-down straps secure holster to your belt. It weighs only 8 ounces.
Pros
Light in weight and extremely comfortable to wear
Ensures the full safety of pistol and magazines
Fits any size, and can be used for both right and left-handers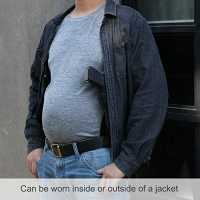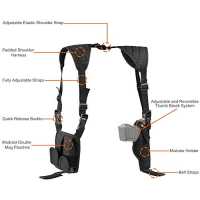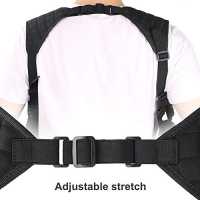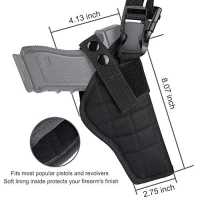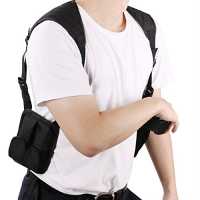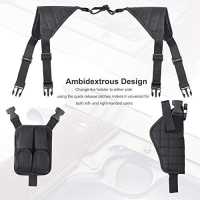 Our Take
After using this shoulder holster two to three times, the most satisfying thing to me is the way it fits. It feels like you are not even wearing it. Amazingly light in weight and extremely comfortable due to the Nylon stuff.

Since it is fully adjustable, it makes it even more compatible for the user as it can be adjusted according to any size, shape, and structure of bodies. And, you can do it only by giving a little pull to the straps and buckles, nothing more. I'm not a slim guy or a regular size person, but it fits me like it was made specifically for my physique.

The quality that you can customize the shoulder holster is not only related to the size and shape, but also to the extent that both left and right-handers can use it by switching the pouch and holster. So there's nothing to worry about this aspect.

The concealment is pretty secure. The pistols are entirely safe once you place them in the holster, and so are the magazines once they are kept in pouches. The belts are made to ensure all things are tight to prevent them from moving around. Well, you don't want all your stuff bouncing here and there.
$18.99


Alien Gear Shapelift Holster (Brown Leather)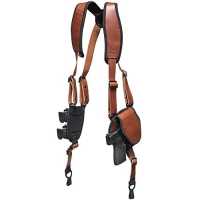 This holster is customed fit according to the specific size of your pistol. It provides concealment off-the-belt that prevents most common drawbacks seen in many of the holsters these days. The straps of this holster are made up of rich brown leather. Its articulating harness is padded with neoprene for comfort. There are feature belts that help in keeping the holster tight to the body as the straps are fully customizable according to the user's torso. Two extra magazine space is provided to balance the weight on each side. The belts are adjustable both ways, i.e., both in length and height, which allows from keeping it conceal or open from the body. It is tested for 30 days by the Iron Clad Program.
Pros
Fully customizable, length, height, and concealment
Comfortable, you can wear them for many hours
Gives more space for ammunition
Cons
Only for specific gun sizes
A little tough to adjust its push buttons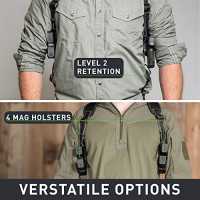 Our Take
This holster much appreciated for its ability to carry more ammunition through the availability of extra spaces. It also works to bring equal weight on both sides, so you feel more balanced. This holster gives you a two in one package -- more comfort and more space.

The suspenders -- the cant and the height -- can all be customized separately. The adjustability of this holster feels as if the holster is fully attached to my body. It did not move, and I felt fully in control of my stuff. Due to the open and concealing options the straps provide, the holster is kept close to your body. When buying this holster, your body type isn't the problem. The only concern is the size of the firearms you'll carry since it differs on specific guns.

The quality this holster brings is exceptionally spectacular. The vibrant brown leather color adds a sense of style. The magazines and the firearms holders are entirely safe, and the holster comes with a snap thumb break it releases with a push button.

Alien Gear Shapelift Holster (Black Leather)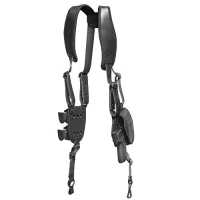 The Black Leather Shoulder Holster by Alien Gear is built upon the same designs introduced above. However, it has some useful additions to make it more durable and to increase the quality of its carry like the neoprene padding to the straps.
The length of all the straps is adjustable. The magazines and holster base pads are also padded with neoprene to bring greater comfort to the user. The holster itself is the ShapeShift holster shell, custom-molded for your specific gun and adequately securing the trigger guard. The shoulder holster can be adjusted for both horizontal and vertical use by adjusting the ride height and can't angle. It comes with an Iron-Clad guarantee.
Pros
Adjustability; you can use it in which angle you want to
The straps are comfortable
Quality of material is guaranteed
Cons
Sometimes it feels heavy on the left shoulder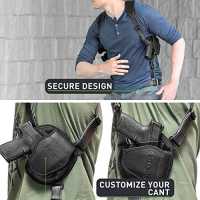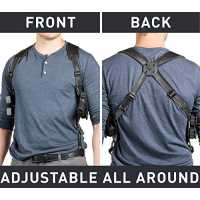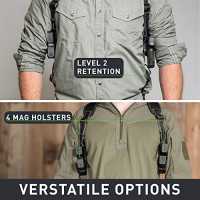 Our Take
The holster is fully customizable and can be adjusted in so many ways, like vertical and horizontal. The best thing about this holster is that you can change the angle of the holster and can get different shells according to your gun or any other specific gun. And it is incredibly comfortable as it has options for canted or straight, vertical, and horizontal positionings.

The Kydex shell is a perfect plus; it will allow you to carry multiple make and models only in 30 seconds without the use of any tools. In short, it is entirely customizable to what suits your requirements or how you want to carry. And the Kydex is covered with soft leather, which avoids any discomfort.

I love the way how this shoulder holster becomes a perfect fit for any shape and size of the body once it is fully adjusted. The straps are pretty well made, and you can wear them for as many hours as you want. It doesn't feel much heavy, and you won't be tired of it and will never feel strangled as it happens with some of the holsters. All in all, it is an excellent product to buy and worth your money. It adjusts smartly to your needs

Condor Vertical Shoulder Holster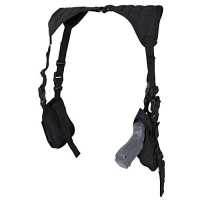 The Condo's Vertical Shoulder Holster comes in three colors: Coyote Brown, Olive Drab, and Black. The holster has the mag capacity for up to two pistol mags. The weight of this vertical holster is approx. 9.6 ounces; that means it isn't a heavy one. It is a firmly made vertical one carrying the shape of a body and is adjustable as well. The holster is made entirely secure, and it brings the pistol vertically. It has two positions for the snap, which are easily switchable. It has proper construction and requires minor effort while switching sides.
Pros
Very economical
Compatible with many guns
Ensures full safety of pistol and magazines
Cons
Requires a few struggle and adjustments at the start
Our Take
The holster is light in weight. And I believe most people will find it comfortable due to its vertical construction. The holster keeps your pistol and magazines secure in an upright position no matter you are bending, jumping, etc. Hence, you're utterly fearless about the fact your pistol or mags falling out while moving fast or unorthodoxly.

Experience-wise, it fits my gun pretty decently due to its universal fit style. It can further be adjusted as you can point out the gun backward and forward as well by adjusting the straps and velcros. Carrying and concealing went well, whereas, for some, it requires modification. However, you will have to make a minor adjustment at first to ensure it's compatibility with your body.

Talking about the price, I would say I'm surprised to see these qualities in such a low expense. The product is worth buying if we consider its price. The price is almost nothing as compared to the features this holster possesses.

NcSTAR VISM Ambidextrous Horizontal Shoulder Holster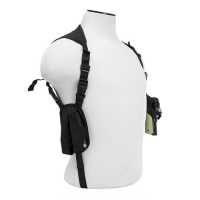 This particular shoulder holster comes with a double magazine holder. It is black and is a lightweight object which ensures the comfort of its user. It has an adjustable thumb break harness. And it can be taken in use by both left and right-handers only by making a few subtle adjustments. The double magazine holder is attached to the harness of the shoulder. It is made up of tough PVC material — changeable thumb breaks for adjusting to different sizes depending upon the pistol. Double thumb break snaps help in making the pistol more secure and safe.
Pros
The maximum value of money
Ensures safety once fitted well
Comfortable in its structure
Cons
Requires some stitching and adjustment
Our Take
Value-wise, this holster is worth buying since it offers more features and functions compared to other holsters in the market.

It requires a little stitching at the start because initially, my gun fell out again and again when I bent over while I was testing this holster. But once I made the stitches and fixed the velcros, it went pretty well after that. Similarly, adjustments are required to ensure it fits well to your body; either you want it tight or loose, it depends, but the holster provides full customization.

The product is pretty compact and of conforming shape, which results in remarkable concealment. It is very comfortable as well and does not make you feel even if you are carrying a heavier sidearm. It must be said that the VISM has met the requirements, and at such a price, you can't complain much about it. Altogether, I had a good experience with this holster apart from the fact that there's a little time required to get along with it entirely. Once you are done with the customizing part, then it becomes pretty dependable -- a quality product, indeed.
$14.99


Gun Holster SHOULDER Ruger Security
The product has a comfortable shoulder strap system. It also contains a belt loop secure system. It fits most of the commonly used guns like Ruger Security-9 9mm S&W SW9VE 5900 Glock 17 19 20 21 22 23 26 28 30 31 32 33 36 38 39 Taurus 24/7 PT840 springfiels XD9 Walter Creed 4" ATI GSG FIRE FLY .22LR Rim fire #5. This shoulder holster weighs amazingly only 5. 6 ounces, and it is entirely durable and comfortable in its form and shape. It can also be adjusted to some extent as well to make it fit for different types of torsos.
Pros
Can be used for different short guns
Affordable and effective
Cons
Does not have space for magazines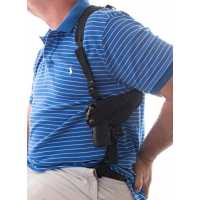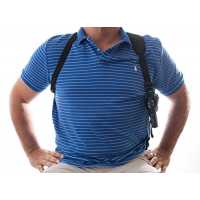 Our Take
This product is what I needed for my Umarex Glock air pistol. For its price, it is indeed a very, very productive shoulder holster. The gun remains pretty compact and steady while the velcro strap is on; otherwise, it loosens up and might end up seeing your arm falling out. But overall, it is a good velcro, and it has some strength in it. The velcro can be a problem at the start of an emergency but will work fine afterward.

I found it pretty comfortable, as the straps do not put any strain on your body or your shoulders. The product is the same as it is described; it is sufficiently reliable and safe.

The best thing about this holster is the extensive range it provides. It can fit with a significant number of guns, almost all of them used by most of the shooters in the USA. I can count on this product fully and can say that it is worth each of your cents.
$15.95


UTG Deluxe Universal Horizontal Shoulder Holster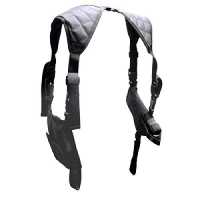 The Black Deluxe Universal Horizontal Shoulder Holster comes with a modular design perfect for both the left-hand and right-hand users. The shoulder area is completely padded with two magazine pouches with it. The design is universal and fits most of the pistols used in the modern-day shooting. The gun's finish is entirely safe with the holsters' soft lining. All the straps are fully adjustable for customizing according to your body. The velcros are attached to a web belt for pouch tension and optimum holster. The product with all its Tactical Gear weighs only 10.6 ounces and is made up of Nylon
Pros
Universal fit
2 mag pouches, allows you to carry more ammo
Very cheap, according to its features
Comfortable and durable due to its Nylon material
Cons
The retention is inconsistent because it is universal.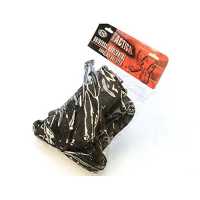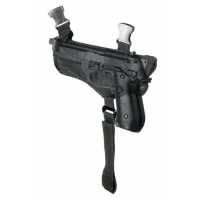 Our Take
This holster is perfect for those who are thinking of spending less yet offers pro-level shoulder holster features. This holster will give you far more than its price. It is entirely universal and fits almost every enthusiast, regardless of height, shape, and size.

Another great thing about this holster is that you will not have to worry about taking anything else with you. Once you have this one on your body, it will carry all the stuff you need. It has two magazine pouches that allow you to bring more ammo. Just have this holster and things on, and you are good to go.

The customization process will not take more than 15 minutes. The Nylon makes it comfortable, and the strength in the straps makes it extra durable. This holster would last you a few years -- an excellent value for money.
$16.97