3 Best Splatter Targets
Splatter targets are a staple in shooting practice due to one simple factor: performance gauging. A good splatter target allows the shooter to assess his or her shoots accurately without ever needing to assess the entire splatter target itself. Hence, the design of most splatter targets often revolves around making sure each shot is clearly seen, and making sure that each sheet is usable to a wide variety of configurations.
In this set review, we will introduce some of the best used splatter targets for any shooting session that you may have.

Splatterburst Targets - 12 x18 inch Silhouette Reactive Shooting Targets
These 12x18 inch silhouette targets from Splatterburst Targets are designed to indicate shots with bright yellow holes, that are still very visible under brighter sunlit conditions. They're fairly heavy-duty, and one sheet can last long enough for a good duration of your shooting session. Available in 10, 25, and 50 sheet packs.
Pros
Easy-to-use, easy-to-dispose
Lasts quite long
Shot targets still (quite) visible under bright sunlight
Cons
Small, need special distance placement
Supposed to be non-adhesive, but can stick on warmer days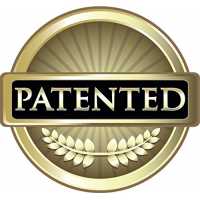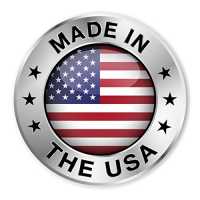 Our Take
As far as convenient placing hits go, there's probably nothing more basic than the reacting silhouette shooting targets of Splatterburst Targets. As indicated in its description, they are reactive, with the energy and heat of each bullet impact bursting the target spot into a bright fluorescent yellow glow.

This is of course, is all thanks to basic color contrasting. Each of its 12 x 18 inch target sheets a coated each with a layer of black and neon yellow. As shown, the bullets breakthrough the inner yellow layers, which brings out the bright target spots. With regular paper targets, you usually have to strain to see where the bullets strike, but with standard reacting shooting targets like this one, that is never an issue.

Oddly enough, there have been a few stories where these targets would curl up. This can of course be solved by using more spring clips, but I never had this issue for some reason. Do take note of this though, even if the possibility of a fault product is low.

Handling them is okay, but coating has a tendency to become sticky, most likely due to warmer temperatures. This isn't exactly a use issue, but might be really inconvenient when setting up. Recommended to use gloves when handling.

Oh and one more thing. As you may have noticed the targets are created with half the size of NRA B-27 silhouettes. This means they can be set up at half the range of what standard silhouette shooting targets are usually placed in.

All in all, these bright yellow silhouette shooting targets from Splatterburst Targets are not a bad choice. Fifty or so sheets would last quite a good time before you'd need a new set, and it can be purchased at a very affordable price point.

$10.99


Glowshot Targets - 18 x 10 inch Multi-Color Silhouette Splatter Targets
These are 18x10 inch silhouette targets that are multi-colored, providing varied color indicators depending on the shot portion or location. Glowshot Targets claims that these particular targets are at least 42% percent thicker than the competition, and that helps in making them sturdier for longer shooting sessions. Available in 10, 25, 50 and 100-pack versions.
Pros
Multi-color (base) target
Quite easy to set up
Storage is relatively convenient
Cons
White area is NOT splatter-layered
Quite large, but might still be not large enough for some users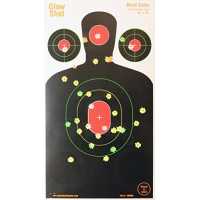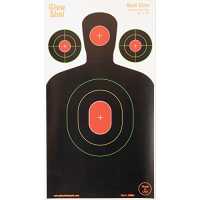 Our Take
Reusability is never something that's frequently talked about with splatter target sheets, but in the case of GlowShot Targets, their silhouette splatter targets might just fit the description. Standard design, big, sturdy, and plentiful… but I'm getting ahead of myself.

First, let's talk about the downsides. While splatter targets are typically built with a colored area in order to clearly indicate shots, this one left out the white parts completely. As such, you won't be able to quickly see a white area hit, you'd have to either look at it hard from a distance, or inspect it up close. Not exactly convenient if you just want a straight shooting session.

The targets also produce a certain amount of reflected glare. Depending on the lighting conditions, and their relative position,

That being said, the paper itself is very thick and quite large. This isn't something that would be too hard to quickly straighten when it curls, especially with its slightly thinner and smaller 18x10-inch standard size. If manage to hit specific areas, the splatter targets would even display a slightly different color from the typical bright yellow, allowing you to gauge your performance even better.

There is of course the inherent inconvenience of becoming heavy pile of mess when wet, or naturally curling up due to eventual exposure to air moisture. But you can do simple preventive measures to take care of that.

Probably the simplest one of our splatter target list, but it still performs admirably well. Just… don't shoot at the white areas.

$35.00


Big Dawg Targets - 18 x 24 inch Silhouette Reactive Splatter Shooting Targets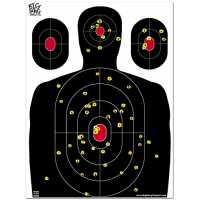 These are 18x24 inch silhouette targets, the largest of the three splatter target products for this review. These targets are printed on high-quality card stock, making them easier to set, prop up, or store away. It is rated for all calibers of guns. Available in 10, 25, and 50 pack versions.

Pros
Highly reusable
Distance compensation (almost) not needed
Card stock build makes it very sturdy, almost never curls when stored
Cons
Handles poorly on rough surfaces, could rub off a small portion when scraped
Card backing suffers from bullet wear first when not positioned properly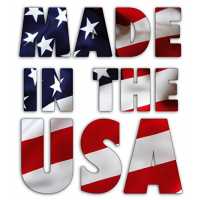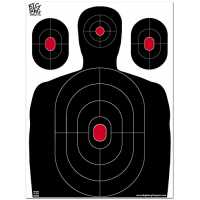 Our Take
One common complaint about splatter shooting targets is the size. Specifically, being too small in size. Well, this is hardly a problem for Big Dawg Targets, marketed as the largest splatter targets commercially available for shooting enthusiasts.

At 18x24-inch, there is a lot of room to practice whatever part you attempt to shoot. It is reasonably closer to the actual size of a regular human, so you can pretty much position them farther than that other significantly smaller splatter targets. Like all other splatter targets, the hits you make "glow" with a fluorescent greenish-yellow tint, making it easy to see targets.

Another somewhat insignificant, but still convenient addition to its features is…. a stock! Which is advertised as "heavy-duty" by the way, though I guess that's accurate given how thick it actually is.

It is quite surprising how many splatter target products are available out there that doesn't include its own card. I mean, they're not that many thankfully. But you'd think these would be the baseline default addition. In any case, with card stock, this super large splatter target is made even easier to either prop up or store.

As an added bonus, you can even buy an additional black dots pack to cover the holes, allowing continued use of these already long-term use large splatter targets.

Overall, Big Dawg Targets may perhaps be the best in this list. Being large means you have a more realistic perspective on the shooting target, and it is easy to prop up, store and reuse. Even if they're only available in 10, 25 and 50 sheets, it still hits all of the features necessary for a semi-long-term practical use.

$24.99