5 Best Gun Safe
A gun safe provides mental satisfaction that your gun is safe at all times. Its significant purpose is the prevention of access by unauthorized or unknown persons. In some cases, it is found very valuable for keeping it out of the reach of children. It provides a safe space that eliminates any incidents or mishaps that could jeopardize the safety of anyone within the vicinity.
Further, relevant documents or any other valuable assets can also be placed inside the safe. It also proves helpful while you are traveling with your guns; it is, in short, a great way to take away all the possibilities of any unwanted situation.
As there are hundreds of them -- and the buyers mostly get confused about the right one -- I've curated the best for you to make things a bit simpler. Hence, without further ado, here are the Best Gun Safes that fit your necessities.

AmazonBasics Deluxe Quick-Access Firearm Safety Device
This safe is for one pistol only. It is a Deluxe Quick Access firearm safety device keeping the valuables safe and sound. It has rubbers that are exceptionally quiet, and it possesses a gas spring door that ensures single-handed entry. The safe is made up of dual-layer steel and is entirely durable. The door is pry-resistant. It has a 500 DPI semiconductor Biometric Fingerprint sensor with a remarkable speed of less than 1 sec. This safe is approved as a firearm safety device by the California Department of Justice. It gives you a large fingerprint capacity of up to 50 individuals. And a touch lifetime of up to 1,000,000 times. It includes a backup and an Amazon Basic warranty.
Pros
Multiple layers of steel
Extra safety measures
Fingerprint lock system
Good space and not very heavy and large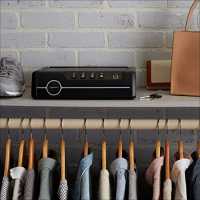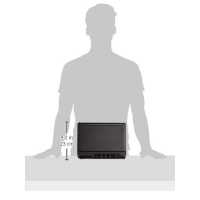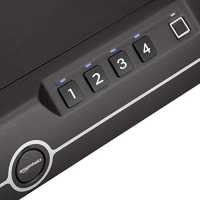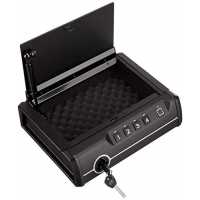 Our Take
This Deluxe Quick-Access safe is a fully equipped and dependable one. It ensures the maximum security of your pistol and adjusts the gun very quickly. It includes a spare space for some documents as well, which is plus point. The price of the safe is not much, considering what the safe offers.

The good thing is the quietness of the buttons that are made up of rubber. They are whisper quiet buttons and of good quality rubber. The fantastic part is that you can add up to 50 fingerprints, which shouts premium quality. The safe is made with multiple layers of steel that's unbreakable or tearable. There is an extra backup key if in case you forgot your password or if there are any problems with the fingerprinting.

The safe is not of immense dimensions and is not very small from the inside. The design is also very graceful, and the safe is not very heavy; it can be placed easily anywhere, which makes it perfect for traveling.
$119.37


First Alert Portable Handgun Safe
The safe by First Alert has a very durable locking system with spring-loaded open closure for smooth operation. The safe is built up with heavy-duty 18 Guage steel and is powder-coated as well. It also has a steel cable, which is helpful if you need to keep it in the car trunk. It has mounting holes that help in securing to shelf or floor. The safe provides fast and easy opening with a digit keypad. This one is a small size safe for one pistol. The interior is made up of foam-lines to give the highest possible safety.
Pros
Safety is guaranteed
Affordable
Fingerprint locking mechanism
Cons
The battery is not long-lasting.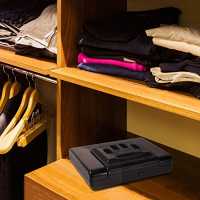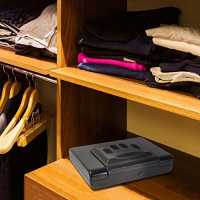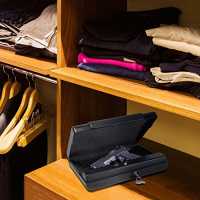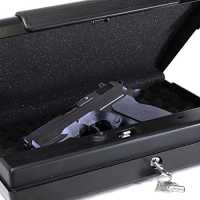 Our Take
This is a reliable pistol safe, and it serves the purpose very well. Given its price point, it sports a lot of features comparative to well-known expensive safe. The safe provides the insurance that the firearm will be secure due to its Fingerprint locking system. This ability brings the aspect of extra safety -- a top-notch performance.

The safe comes with a foam-lined interior that ensures that the gun is protected at all times. The steel layers, as well, adds to its security, making it unbreakable. However, I've encountered a little problem with its battery. It's not long-lasting. Yet, I could not argue more when it comes performance -- it does its job perfectly. It is safe and an appropriate device for personal usage.
$71.97


SnapSafe Treklite Gun Safe Lock Box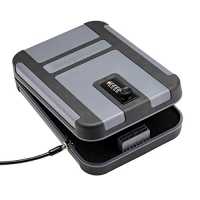 SnapSafe offers a Treklite Gun Safe Lock Box in Grey color that is sized in a way to fit anywhere. The safe has the space to keep full-sized 1911 handguns. This gun safe is made up of impact-resistant polycarbonate that adds to its durability. It has dimensions of 10"× 7"× 2", and offers heavy-duty protection, yet remains light. There's an additional steel cable that works for locking other objects stored.
Pros
Affordable
Can carry full-size guns
Lightweight
Portable
Cons
The material is not of the top quality
The lock system is not the most advanced and is not very safe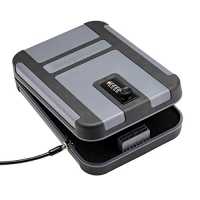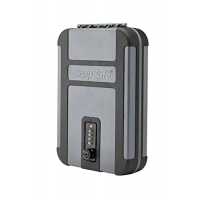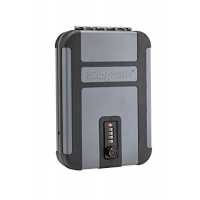 Our Take
This particular gun safe is unique in its formation: light and comfortable to carry around. The size of the gun safe is minimal, making it easier to fit almost anywhere, like under the car seat. Yet, the space inside is enough to secure a full-size handgun.

The safe comes with two kinds of lock systems; one is the traditional key lock system, and the other comparatively less conventional -- a combination lock system.

The combination lock system is TSA approved, giving you that extra assurance regarding safety and security. This safe is remarkable and is highly recommended to all gun enthusiasts.
$28.51


Stack-On PDS-1500 Drawer Safe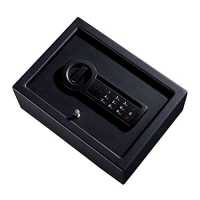 This gun safe comes with an electronic lock system. It works smoothly with Polaroid AA batteries. Its size is small enough to fit inside a drawer. There's a programmed electronic lock. It has holes in drilled in it already to hang it against a wall or for putting it on the shelf or floor; the fastening hardware is provided. The package also contains two live-action steel bolts and concealed hinges for better security. The internal dimensions are 11.5" ×8.25" ×2.25" and external dimensions of 12" ×8.75" ×4.5". Solid pry-resistant steel is used in its making.
Pros
Easily programmed electronic lock
It perfectly fit in small places
Premium Quality material
Cons
Heavyweight due to its material
Batteries needed to be changed frequently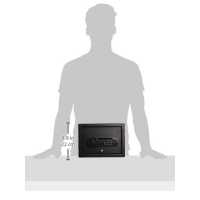 Our Take
This particular black colored lock by Stack-On is an excellent device for keeping your firearms secured. The electronic lock system functions properly -- fast and easy. The pry-resistant steel makes it a valuable safe and brings the durability factor into play, as the plate solid steel doors are entirely dependable.

There are concealed hinges and two live-action steel locking bolts, which adds security when attached to any stationary object. The pins are carrying unbelievable strength, giving zero chances of breaking.

The electronic lock also has faceplate, which gives you the status of the safe. The lock works with combinations, and they can be changed easily. This product is one of the highly recommended guns safe on Amazon as of today.

SentrySafe QAP1E Safe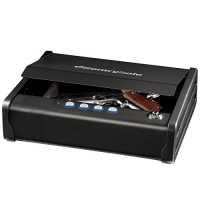 The SentrySafe product is made up of sturdy and high-quality solid steel that provides top-notch maximum strength. And, it has pry-resistant doors for added security. It has an override key for a backup entry if required and also has a digital keypad. This safe is certified by the California DOJ.

The safe provides storage for one Handgun of standard size. It has an interior of 12.1" ×9.9" × 3.2" and exterior of 9.7" ×6.7" ×2.2". For best results, the SentrySafe would like the users to prefer specific branded alkaline AA batteries, which have a lifespan of 8-10 years.
Pros
Affordable
Fully secured device
Functional space inside the safe
Cons
Specific batteries are required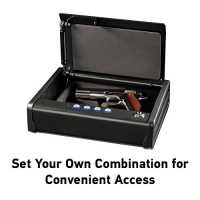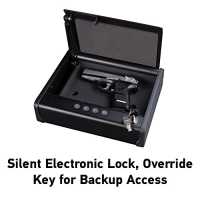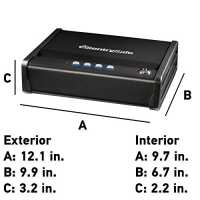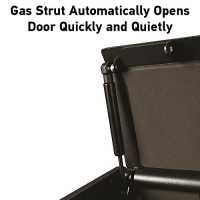 Our Take
The safe has all the space I need to carry my standard sized gun and magazine. I had bought this product quite a long time ago, and I must say that I am yet not disappointed. The price is reasonably less considering what the safe has to offer. The gun safe is fully secured and is an ideal piece to use as a bedside safe. The safe is not very large at the exterior and has enough space inside as well.
$107.11