5 Best Shooting Ear Protection
Earplugs, while simple and straightforward, are an essential part of your safety gear in shooting sessions. Guns are loud, we all know that, and it only takes one too long session, or too loud of a bang, to eventually make it hard for your ears to function. Sometimes, even potentially causing permanent damage. In this list, we have chosen five very affordable earplugs that will not only help mitigate the noise, but can also provide a bit of added concentration boost, to amp up your shooting performance.
5 Best Shooting Ear Protection

Mpow 055A Super Soft Foam Ear Plugs 34 dB SNR
The Mpow 055A is a set of 60-pair earplugs with a rated SNR value of 34 dB. While great for most activities that require lessening noise to the ears, such as woodworking or handling machinery, it is also advertised to perform very well as an earplug for shooting sessions. The product comes with a small cylindrical aluminum case that can be used to store individual earplug pairs without the need to bring the entire jar.
Pros
Straightforward, easy-to-use
60 pairs more than enough for anything
Cute aluminum casing
Cons
Might be a bit too firm for some users
Aluminum casing probably easy to lose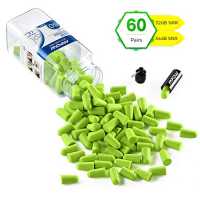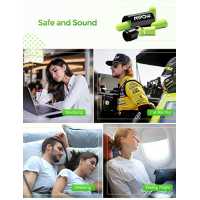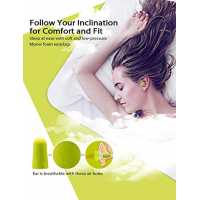 Our Take
Very simple and easy to use. As with most similar products similar to this one the Mpow 055A doesn't really have any complicated chops or sophisticated instructions on how to use. Just plug it in gently in your ear, hold it softly with your fingers a bit for about a minute or two, and presto! Impromptu ear protection on the fly.

That being said though, wearing these earplugs was indeed very comfortable. In fact, in environments where the only significantly audible sound are gunshots from the shooting range, such as enclosed, but vertically open spaces, you tend to forget for a short while that you are even wearing them. You're only constantly reminded of its existence each moment you hear the muffled voices of other people around you.

A fair warning to those who might have sensitive ears. The Mpow 055A definitely feels firmer than other earplugs out there. The pressure from pushing them in might not feel bothersome at first, but it will get more and more painful over time. Not excruciatingly painful of course, but enough to potentially affect your shooting performance. A softer product might be better, or just wear full-blown earpieces.

As the Mpow 055A is designed for general noise reduction use, you can pop a few pairs from its jar to use in activities other than shooting sessions. How you use them is up to you, though we may humbly suggest using them as a supplementary sleeping aid.

Like I have said at the beginning, the Mpow 055A is pretty straightforward to introduce and use. It is an earplug with an SNR rating of 34 dB, so it is generally more than enough for average shooting sessions. Even comes with a cute aluminum case so you don't have to bring the entire jar!

$10.99


QB2HYG Hearing Bands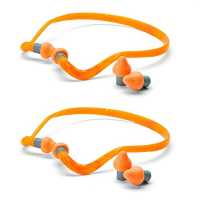 The 154-QB2HYG hearing bands are curved foam bands that go around the back of your head to each ear, tapered properly for easy fitting to the ear. Its widely curved form factor is built to fit heads and faces of any type and size. It has an advertised noise reduction rating of 25 dB, making it a good choice when using any kind of standard firearm during shooting sessions.
Pros
Classy design
Fits most people better than you might think
Very serviceable for its simple build
Cons
A snug fit might not be achievable to some users
Can't rest your head while worn
Our Take
As someone who likes the practical design of earpiece bands that meant to be able to rest on your neck, the QB2HYG Hearing Bands is definitely a nice pair of ear protection for shooting. There is, of course, the inherent inconvenience of such products being obstructive when laying your head to rest somewhere. But hey, it's not like you're just plopping down laid back after shooting some rounds right?

The well-tapered ends of the QB2HYG Hearing Bands are probably what makes it so comfortable to use. If you have a particularly big ear canal, you might have a few problems with basic earplugs being a bit too easy to push in. Or, if your ears are small, you could have the opposite problem of the same product making your ears hurt.

This pair of safety ear protection strikes a good middle ground for both scenarios. As well advertised by the product itself, it is made to fit a very wide variety of head types and sizes. Being too much of a one-size-fits-all does make it ironically not fit perfectly with every person (it does tend not to dig deep enough into the ear unlike how simpler earplugs could). But based on what I have observed from its design at least, and from my personal, albeit-brief, experience using it, the efficiency is still quite there.

It has an advertised noise reduction rating of 25 dB, which I'd say is quite okay. Definitely more than enough to muffle those shotgun shells.

There isn't much to say about the classy "headphone" ear protection accessory really. It fits nicely, somewhat enough for all users, is very affordable, and muffles gun noise just enough it to be regularly usable.


Decibullz Custom Molded Earplugs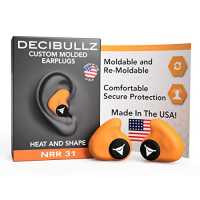 Decibullz Custom Molded Earplugs is as its name suggests, a hearing protection tool that can be molded to fit exactly the contours of your ears. It uses a moldable thermoplastic material that, when boiled and cooled down a bit, can be bent and shape to the exact measurements required. In addition, it is rated at 31 dB, allowing it to scale the higher-end of soundproofing for your ears.
Pros
Moldable, can in principle match your ear perfectly
Excellent high-end noise reduction potential
Cons
Molding the thermoplastic not as intuitive
Might not be effective outside shooting ear protection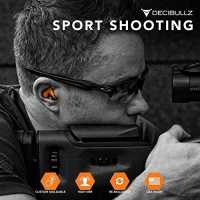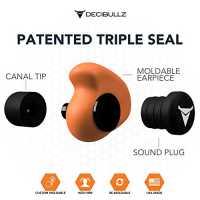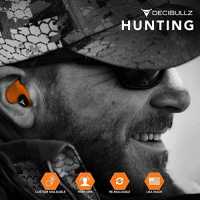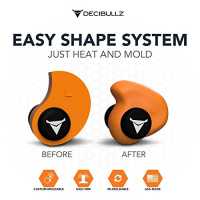 Our Take
There is a certain lowered level of expectation when it comes to the technologies used for earplugs. I mean, how complex could it get? Aside from composite foam or plastic material, you get basically the same solid piece that you chuck in your to varying degrees of noise reduction levels.

Decibullz Custom Molded Earplugs, takes a different approach. Instead of a one-all be-all type of product made not to specialize, but to generalize most ears of any size and shape, you actually have the option to mold to specifically for your ears. It uses a type of thermoplastic, which we assume is rate safe to use and handle, that can be shaped when it gets hot.

And no, you don't need to be a human printer to handle the thermoplastic. It can be cooled down significantly first before you press it into shape. You do need to choose a silicone tip first, however. Oh, and the straightforward option of just pressing that warm moldable earplug onto your ear to instantly shape it is probably not as good as you might have originally thought.

As for its 31 dB rated noise reduction rate, it's pretty much spot on. In fact, I've heard a few military personnel actually using it in real combat. So just imagine how useful a pair of these could be on a shooting range.

Not to point out the obvious, but the Decibullz Custom Molded Earplugs is not meant to be placed in the ear with the eventually of some sort of pressure applied onto your ear. One rather nasty example is using the earplugs to sleep sideways. Definitely not recommended unless you want sore ears in the morning.

I'm not sure how the thermoplastic would keep itself up with extended use of the years, but we can safely assume that your ear wouldn't drastically change shape during that time to warrant another session of ear molding.

$25.99


SureFire EP4 Sonic Defenders Plus filtered Earplugs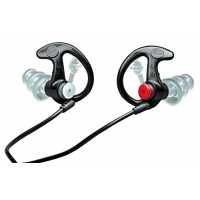 The SureFire EP4 Sonic Defenders Plus filtered Earplugs is officially advertised as "earplugs that still lets you hear", emphasizing its ability to let users maintain the ability to hear standard cue sounds or lower audible conversations. It reinforces its fit to the ear with a "triple-flanged" design, which molds more or less to your ear after the main earpiece is inserted into the ear canal. With a rated noise reduction rate of 24 dB, it also theoretically can be used very well as a shooting safety/protection earplugs.
Pros
Multiple sizes, better chances of finding a snug fit
Does what is advertised, even if just barely
Lots of styles and options for varied users
Cons
Users could buy the wrong size
Our Take
How hard is it to see if an earplug fits? And how difficult is it to actually use them? We usually never have to think about these things as earplugs are pretty straightforward to use. With the SureFire EP4 Sonic Defenders Plus filtered earplugs, there is a bit of consideration for these things, but I assure you, it's not going to be that difficult.

But before we read into its "technicalities", I must address one fairly obvious, but often overlooked thing in this product. It comes in three sizes, small, medium and large. If you see reviews of this product complaining that it does not fit properly, it is most likely that they bought the wrong size. For my brief review, I had the medium-sized clear one, which happens to fit really snugly in my ears.

On the cover, it is advertised to be able to reduce noise while "protect your hearing without interfering with your ability to hear routine sounds or conversations". During tests, this indeed was the case. Well, not exactly. It does not magically muffle your rifle shots while still allowing you to converse normally to people as if the earplug disappeared. The smaller noises do still get muffled a bit, but the noise is reduced in a way that would still allow you to hear them, provided that there is no other slightly louder noise that can make you miss it.

As for how long you can use these things, I suppose that can be worn comfortably for a long time. I've worn it for about two to three hours without really feeling much pressure on my ears, so we can probably extrapolate that to a few more hours. Not sure how using them for significantly long periods, such as when sleeping, would fare, as it is beyond the intended application scope of this review.

All in all, the SureFire EP4 Sonic Defenders Plus is a nice, affordable product that can be used for smaller caliber firearms in the shooting range. It does what it is advertised at a rough baseline level, though in a different way.

$14.95


Radians CEP001-R Custom Molded Earplugs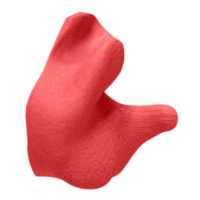 The Radians CEP001-R Custom Molded Earplugs is a non-toxic hypo-allergenic moldable silicone that can be used to form and shape a custom earplug for any user. It is adequately soft, long-lasting, and washable, allowing users to comfortably wear it for very long periods if molded properly to the necessary contours.
Pros
A perfect fit for anyone, like literally.
Has the right combination of moldability and softness for maximum wearable comfort
Cons
Things could get a bit dicey if instructions aren't well researched first
Our Take
If it doesn't fit, find something that does. But if you have the option, why not find something that you can eventually get to fit your ear? Radians custom-molded earplugs probably need not introduction at this point, but I'd still like to talk about some of the things that it can do as a safety shooting ear protection accessory.

If you're using Radians earplugs for the first time, I recommend that you watch some of the official instruction videos first so that you have an idea. The instructions also come with the product itself of course, but a demonstration can help provide technical information about its use faster. A fair warning though, there have been a few quite, "unfortunate", incidences involving people who incorrectly followed the instructions, so please do research this first.

Now for the actual experience of using these. As what you might expect from a custom earplug that is tailored specifically to the exact contours of your ears, comfort is absolutely top-notch. Not only do you not have the risk of it falling off, or being nudged off, but that perfect seal creates the barrier that your ears definitely need to keep that load shooting noise out.

There really is nothing much to say about this product at this point. It's easy to make to get that custom fit for your ears (provided you followed the instructions properly), and you simply have to plug it in for that all-day-long usage comfort. Best of all, it's way cheaper than most other items on this list, so it's definitely a solid economic choice.