5 Best Ear Muffs for Shooting
It's everyone's responsibility to take care of their body at all times. For example, it's highly crucial to put on an ear muff whenever you fire your weapon. A weapon is useless to the user unless they know how to use it. The best way to learn how to use a gun is through training. However, the gun produces a loud sound, owing to the pressure once the bullet's fired. That loud sound could easily damage your eardrum irreparably.
The big question now begs, which is the best ear muffs for shooting? Good question! The product review will enlighten you on the best products to consider -- the quality, size, durability, and material of these earmuffs.
This product review will disclose the top five ear muffs for 2020. It'll deeply highlight essential information such as the features, pros, and cons. You'll soon understand how these products offer protection and comfort in equal measure. No wonder these ear protectors still enjoys splendid customer ratings. Let's begin. Shall we?
5 Best Ear Muffs for Shooting

Peltor Sports Shotgun Hearing Protector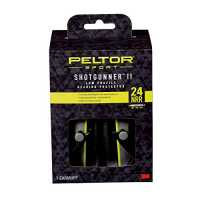 The Peltor Sport shotgun hearing protector has product dimensions of 3.9 inches by 4.4 inches by 7.1 inches. That's not all; the protector has a captivating cut-away cup design for better efficiency. The ear muff's headband is also adaptable to fit on any customers with ease. Each of these products consists of comfy foam cushions for your ears that protect against the thunderous gun sound.
Pros
Highly comfortable
With adjustable headband
Lightweight
Top-notch protection
Cons
The headpiece frame is not long enough.
Slim Profile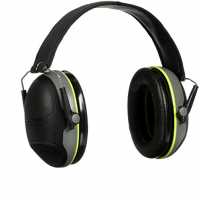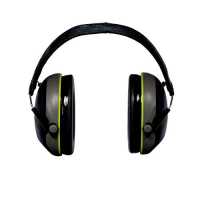 Our Take
A fascinating feature to me has to be the adjustable headband. The headband helps to ensure that the products fit perfectly on the head to cushion your ears perfectly. The cup-away cup design also fascinates me to date as it covers the ears entirely.

The smoothness and the comfort of these protectors will blow your mind. You can comfortably have them on for whatever duration you please. I also need to add that the ear protectors offer unmatched protection against loud noise from small handguns as well as large riffles.
$24.42


Pro For Sho 34Db Shooting Ear Protector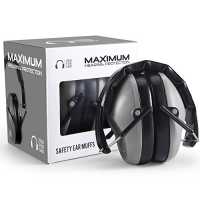 The Pro for Sho Shooting ear protector measures 4.8 inches by 4.1 inches by 4.7 inches. Additionally, the ear protector also features paddles and flexible headbands for comfortable wearing. Unlike most other ear protectors, these require no batteries. Pro for Sho uses a plastic material to make these shooting protectors. It may also interest you to note that this ear protector exists in color grey only.
Pros
Highly portable
Good cushion
Not irritating to the ears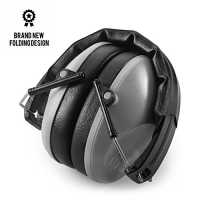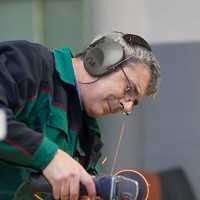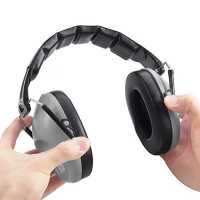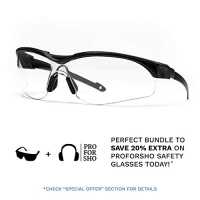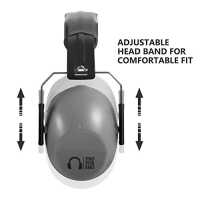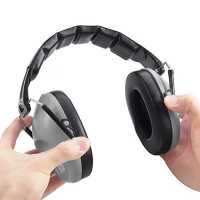 Our Take
I firmly believe that plastic is a sign of durability and efficiency. The Pro for Sho ear protectors has not disappointed me since I purchased them. What excites me about this product is the adjustable headband that helps to enhance the user's comfort. What's even enjoyable is the product's design that allows a customer to put the ear protectors on with ease.

The size of the protectors also makes them portable. The protectors can comfortably fit in a small bag. You'll barely feel their weight. Therefore, you have no reason to leave them behind whenever you go for shooting training. Next time you go shopping looks no further than the Pro for Sho ear protectors.
$19.25


ProCase Noise Reduction Shooters Hearing Headphones
ProCase is a leading manufacturer of protective headphones. This ear muffs from ProCase measures 6 inches by 4 inches by 0.6 inches. It's equally crucial and is designed using ABS material. The ear protectors have a noise reduction rating of 28Db. This product sports an appealing ergonomic soft paddles headband and foam on the earmuffs to better cushions the ears.
Pros
Protectors are skin-friendly
Color Variations
Highly efficient in cushioning the ears
Foldable headbands
Cons
Not available in some areas
Too tight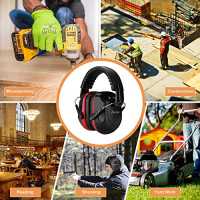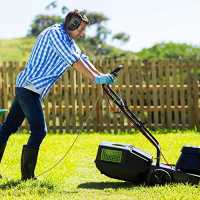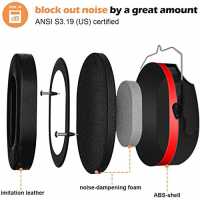 Our Take
There's one thing that makes this product irresistible, the foldable headbands. The features make the protectors more portable. You can easily carry them in a handbag, small bag, or in a carrier bag. That's not all the product also exists in different colors to better suit customer's preferences.

The protectors also have a soft padded headband for comfortable wearing. How can I forget to comment on the fantastic leather material? The leather ear cushions are skin-friendly hence doesn't cause any irritation.

The ends of the ear protectors are not breakable. This means that the products cannot be damaged after they drop onto a hard surface. They guarantee value for money!
$15.99


Echo Shooting Earmuff Safety Ear Protectors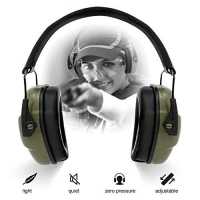 The Echo shooting earmuffs have a beautiful folding design for portability. The ear protectors also have an adjustable headband for more easy and comfortable wearing. You'll even notice the extra soft foam that perfectly fits the ear to cushion them against loud noise during shooting. The products also have a low-profile design for more effortless operation.
Pros
Easy to operate
Ear protector is foldable
Lightweight
Durable
Cons
Limited color variation
Poor Packaging
Our Take
When it comes to ear protectors, portability is compulsory for me. That's the primary reason why I prefer these ear protectors. Firstly, the products have a foldable design for both security and storage.

Additionally, the soft foam around the ear area is impressive beyond words. I can't afford to mention the paddled headbands for comfort and better protection. What's even more amazing is the fact that this product suits both kids and adults.

You can put the ear protectors for as long as you like without any risk of losing your sense of hearing. How crazy is that? Let not noise impede you from going out for shooting training.

HUARUI Noise Cancellation Ear Protectors
The HUARUI noise cancellation ear protector features a PU leather ear foam. The aim of the leather is not only to cushion the ears but also to enhance their comfort.

Additionally, their blue ear protector has a noise reduction of 21NRR. What about the product dimensions? Well, the ear protectors measure 5.9 inches by 5.3 inches by 4.1 inches. You may not know this; the product's manufactures design these ear protectors using ABS material.
Pros
The ear protectors are lightweight
Highly effective in dampening noise
The protectors are foldable hence portable
The products are also skin-friendly
The headphones are also long-lasting
The end of the headbands is adjustable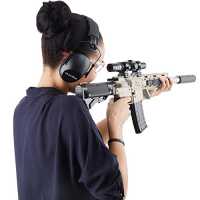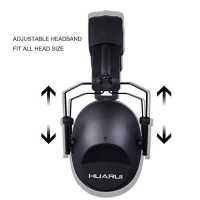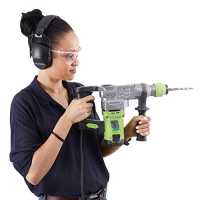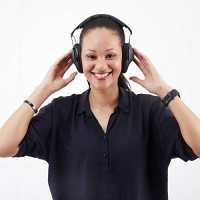 Our Take
You won't believe this, but the product features PU leather ear cushions that are highly efficient in safeguarding the ears. What's more, the noise dampening ability of this equipment is beyond your imagination.

You'll also realize that the products have the company logo upon them. The logo aims to help you to distinguish these products from the hundreds of counterfeit ear protectors in the markets right now.

I must also admit that the person behind the slim ear muff design is genius. The design helps to make the product versatile for many shooting environments.
$13.98