5 Best Gun Belts
Choosing a gun belt usually just means getting the highest quality and heaviest duty leather belt that you can find. Pretty easy right? Well, not quite.
There are several factors that you need to consider for even something a simple as a leather belt when we are talking about safely threading your holsters in place. Size, of course, is a no brainer. But more importantly, the relative comfort that a chosen gun belt can provide can mean the difference between saving your or another man's life, or getting harmed in the heat of the moment.
That, and price is also a consideration, as it is an investment after all. To this end, we have gathered some of the best gun belts that you can find that provides a nice balance between quality and affordability.

Relentless Tactical The Ultimate Concealed Carry CCW Gun Belt - 1.5 inch wide
This gun belt is advertised to be made of full grain leather, providing a very sturdy base material to keep your holsters in place while being discreet enough to function as a normal belt. It has a thickness of 1.5 inches, weighs 14 ounces, with its buckle being screw-attached, and there are four different design variations to choose from.
Pros
Very stylish, doubles as a nice belt accessory in general
Balanced affordability
Solid buckle
Cons
Just good enough, not outstanding
Hanker belts exist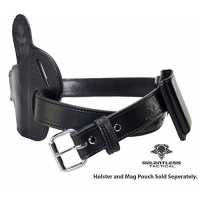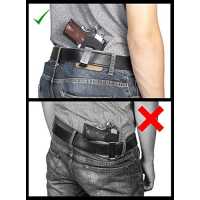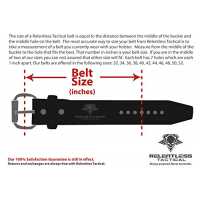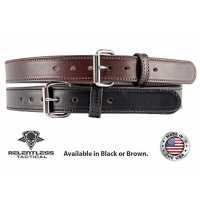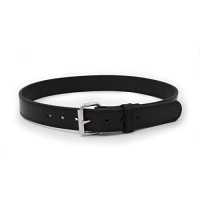 Our Take
Secondary priorities in choosing a gun belt, such as style and fashion, are often placed at an even lower rank next to its general visual impact. Sometimes, we really like just a big hunk o' leather to strap on our big guns. Just like what the Relentless Tactical Ultimate Concealed Belt can do for you.

Okay, okay, I know that sounds like a sleazy promotion but just look at it, it feels like it's about to carry a steel and walnut firearm from the early 20th century. Maybe even holding an older Single Action Army for the revolutionary. At the very least, that's the overall impression of the product with the lower end price that it offers to potential users.

The leather of the belt gives this matte lustrous finish that indicates an okay level to its quality. The stitches go deep and all the way at each hem means it is made with enough sturdiness for its build. The belt buckle, while not particularly notable, is highly serviceable. It definitely is a solid hunk of steel that can hold down you and your belt with dainty grace.

Its official description provides the standard requirement of firmness to the belt. This means that it should at minimum not stretch or sag, and it definitely feels solid enough with that rough thickness. But that's the problem. It just feels solid enough. Compare it with much pricier versions, and you'll definitely notice a difference in stiffness, which might cast doubt on its long-term usability.

At least from my perspective, this gun belt can be a good alternative for emergency replacement purposes. It's no Aker, but it serviceable until you get the official replacement for your broken gun belt. Or if an accident breaks your expensive gun belt again.

$59.99


Aker Leather B21 Concealed Carry Gun Belt - 1.5 inch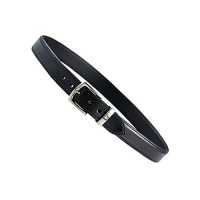 This gun belt is advertised to be made of a composite material that comprises of vegetable-tanned cowhide, and several other "raw" materials. It is quite lighter than most regular gun belts, although it is reinforced with a polymer insert to maintain its balance of both flexibility and rigidity.
Pros
Good price, slightly has more quality than what you paid it for
Material reinforcement is excellent
Cons
Ends can wrinkle a wee bit faster than expected
Squeaky adjusting sessions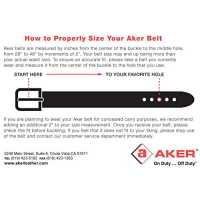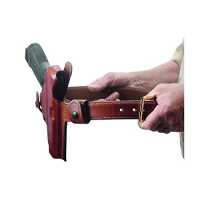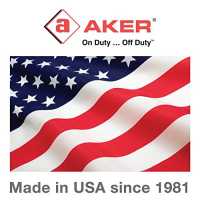 Our Take
A trusted brand evokes the level of quality to their products by just hearing the name. Aker, when it comes to gun belts, pass this test marvellously. However its B21 Leather Concealed Belt is much more than just a firm gun belt.

The design is…. astonishingly normal. There aren't even a few design quirks like bumps or peculiar stiches here and there. It's just a normal-looking belt with an equally normal-looking buckle.

That being said, the quality is superb. Definitely one of the higher end gun belts that you can purchase. The solid feel of the belt, with its thickness feels just right, and holds up very firmly against the holster when worn. I guess the reinforced built helps it maintain its form, either when the gun is in place, or when pulling it out from the holster.

To be honest, I didn't expect anything when I saw it for the first time. It didn't immediately occur to me its sturdy build when I was just sampling the product. It was when I finally wore the gun belt when I really felt like this is the kind of stiff belt that will be critically useful for those that need to sling a firearm or two when on duty.

Of course, like every other product, the Aker B21 belt is not without its slight flaws. It is for one thing, very noisy to adjust and wear. The outer rubber layer rubbing onto the inner rubber layer creates this very distinct squeaking sound, that would have been very apparent if you are to adjust the belt on an outdoor setting.

Wrinkling is also an issue, specifically the portions where the buckle is pinned at. Not exactly a performance concern, but it does unfortunately break the smooth finish of the overall leather layers.

So, is the Aker B21 Concealed Belt the best? Nope. A bit far from the best actually. But its level of quality far surpasses the price point that it is introduced for. It is definitely a good recommendation for anyone looking for a nice, sturdy gun belt.

$52.49


Hanks Gunner - USA Made Concealed Carry CCW Leather Gun Belt - 1.5 inch
This gun belt is a US leather concealed belt with an advertised focus on its 100-year warranty, showcasing the confidence of the company that its main product line will last for as long as the user will ever sling firearm holsters onto them. It has a standard width and weight of 1.5 inches and 14 ounces respectively, and uses buckles that are directly screw-attached.
Pros
Consistent snug fit
Very thick belt
Top-notch adjustment variation
Excellent customer service
Cons
Might feel a bit awkward for heavier firearms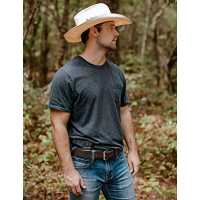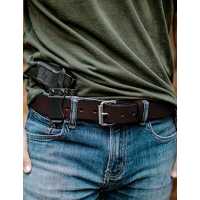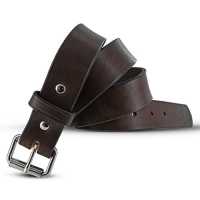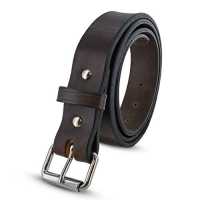 Our Take
When exactly does a gun belt become a gun belt? What's exactly wrong with using an ordinary belt, that happens to just have been built to efficiently carry gun holsters? These are the two questions that are primarily answered by Hanks Gunner's 14-ounce concealed carry belt. And it is comprised of only two words: snug fit.

One of the main features of a gun belt that separates it from ordinary ones is that they're thick, to allow the carry of holsters as hinted earlier. However, more than just thickness, an extended size is also needed in order to make them fit efficiently for all sizes.

As simple and almost dumb as that sounds, that is actually the primary thing that makes this belt great to use. It has an adequate length that accommodates eight different adjustment holes that are about an inch apart.

When paired with the basic rule of using for sizes larger than your actual waist size, this potentially offers a nice sweet spot that accommodates most of your holster needs. Yes, regardless of the average size.

Combine it with the fact that this product is relatively cheap, and you've got a nice, sturdy belt that has a wide adjustment margin that could side to whatever configuration of firearms that you might need for a particular session or operation.

Again, I cannot stress just how its consistent snug fit already makes it a worth buy, plus having a quality that is equal for its entry-level cost! Sometimes, comfort is all that matters… so long as you get the correct belt size of course.


Hanks Utility Belt Heavy-Duty Leather Belt - 1.5 inch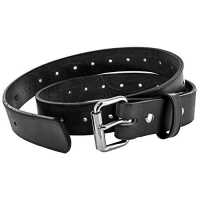 This utility belt is advertised as a very heavy duty belt with a specific focus on adjustment and customization. As its official introduction indicates, the adjustment holes are placed on the entire belt. As with any other Hanks gun belts, it has a 100-year confidence warranty. It has a rated width of 1.5 inches.
Pros
Consistent snug fit
Very thick belt
Infinite(?) adjustment variation (according to Hanks)
Excellent customer service
Cons
Needs very large size allowance margins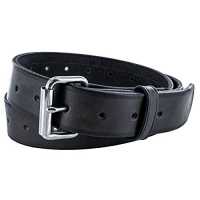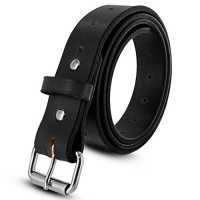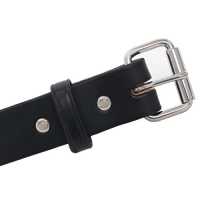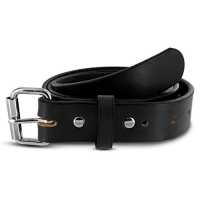 Our Take
I've worn several "industry-grade" belts for various purposes, but they usually always fall one or two adjustment holes short of what I would consider flexible enough. This is typically not a case for this gun belt, and for a good reason. Just like the Hanks Heavy-Duty Utility Leather Belt, because you always want to order the product with a significant size margin.

This is a base precautionary to all who are eyeing that nice price tag coupled with a good, basic belt design. This particular belt requires several sizes more in order to fit properly with the necessary accessories attached to it. We're talking about seven to eight, possibly even ten, whole size measurements farther than your actual waist measurement.

We initially ordered a size that was on a fairly good margin of about three sizes. It won't fit. Tried four. Nope. Five seems serviceable enough, but not exactly comfortable.

With that one annoying negative point aside, this belt actually performs to its "heavy-duty" design quite well. The sturdiness with high adjustability in the form of its buckle and its removable screws, provided that you follow the aforementioned precaution of course.

Heck, even if you feel dissatisfied with the one you purchased, the product's outstanding customer service will deliver well enough to quell your frustration over some defects. I even got an email asking how the belts felt in just mere days after the product's purchase.

So, is the Hanks Heavy-Duty Utility Leather Belt worth the century-long warranty that it is supposed to have? Definitely. Not a must-have, but should you ever like its design and perfect fit with jeans, then we absolutely have no objections.


Hanks Stitch Gunner Belts/Concealed Carry Belts - 1.5 inch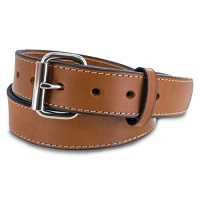 This utility belt is advertised as a variable utility belt that is introduced to users with balanced performance and style in mind. It has a "dressier" look than other Hanks belts, even when equated with the stitched ones, allowing to also be fashionable at the same time. Like any other Hanks gun belts, it has a 100-year supreme confidence warranty. It has a rated width of 1.5 inches.
Pros
Consistent snug fit
Very balanced flexibility and stiffness
Excellent customer service
Cons
(Still) needs very large size allowance margins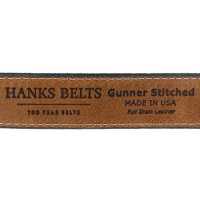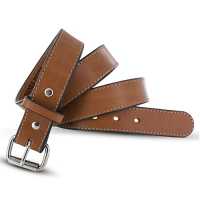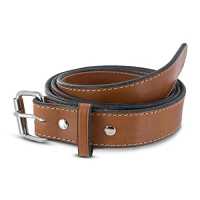 Our Take
Yup, this is yet another Hanks gun belt review. Kind of funny to see almost three entries of their products here. But, such is the testament to its quality, and this time, we are introducing yet another stylishly designed product from its line-up, Hanks Stitch Gunner Belts.

Contrasting a bit to the other Hank belts, this stitch version feels a bit more flexible. Which is kind of worrisome, since the heavy-duty thickness and stiffness is usually what carries the quality of Hanks gun belts. This time though just the adequate level of stiffness is imparted onto the product. At least that's what I like to think. You see the flexibility when it's first held, but then be delightfully surprised that it actually holds up without sagging

Another quite obvious but still notable convenience of this balance of flexibility and stiffness is how you can fit holsters very easily into it. Inserting is easy given that it is stiff enough, and then threading around itself is even easier with its softer texture.

The issue of having to order a belt that is much higher than your anticipated size margin is still there, but thankfully its now down to normal levels. I mean, it's down to what you would do on any typical gun belt purchase.

And for you style enthusiasts out there, the oak-colored stitched belt really nails that Western look, making it a natural fit for blue jeans.

In case you have any problems with your particular purchase, Hanks' customer service team are very responsive, and will provide anything that you need within a relatively short amount of time (within a few days).

The verdict for this one is the same as any Hank gun belt within this review: highly recommended.